My Journey Through the KonMari Method
I don't remember when or how I was first introduced to the work of Marie Kondo. But I do remember how I felt the first time I finished reading the life-changing magic of tidying up. There was something unbelievably freeing about reading the words of someone who shared my love of organising. I, too, set out to tidy everything I could get my hands on as a child, long before I ever began my journey through the KonMari method.
I started reading home and lifestyle magazines when I was five, and it was this that inspired me, from the age of fifteen, to undertake a serious study of tidying…. —the life-changing magic of tidying up
Looking back on these years of taking in all the Marie Kondo content I could find, I have a confession to make: I've yet to complete the process in its entirety. I've applied the principles of it to my life and routines, from her folding methods to her all-important question: "Does this spark joy?" Most recently, I made my way through my clothing before getting stalled on books. A broken bookcase in my already limited space made sure the piles would be all too overwhelming! With replacement shelves arriving in just a few days (thank you, IKEA!), I'm planning to return to clothes and (hopefully) make it through the KonMari method once and for all.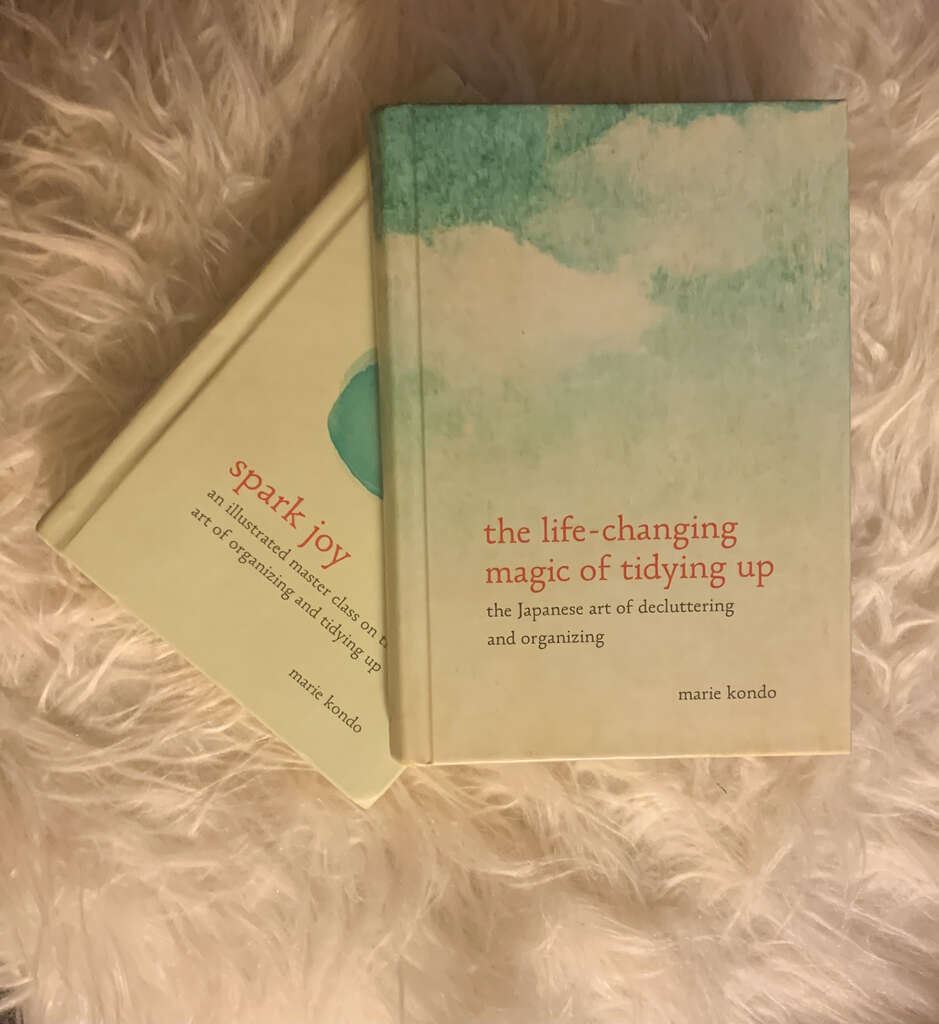 The KonMari Method
If you aren't familiar with the KonMari method, there are a few key points to keep in mind:
Tidy in one fell swoop, not in small spurts.
Before you start tidying, envision your ideal life (fitting, no?).
Tidy in order, by category.
Focus on the items you're keeping—and why you're keeping them.
Thank the items you're discarding.
Be sure the items you're keeping have a home.
Of course, Marie Kondo's method is outlined more thoroughly in her books.
My KonMari journey
As I mentioned already, I haven't made it through the entirety of the KonMari process. I've started it a few different times, reread the first of Marie Kondo's books countless times, and restarted the process all over again. As much as I love the concept for a large tidying spree—a marathon, not a sprint—I struggle to clear enough time for such an occasion. Between my "day job" of freelance work, my writing projects, Nightingale & Sparrow, this blog, and generally taking care of myself, Fitz, & our home, I'm lucky I have the time to sleep some days! Still, I'm determined to implement the KonMari method in full.
The plan:
As I write this post, I'm preparing to reread the life-changing magic of tidying up (once I've finished a few of my current reads!). This way, once my books are safely on shelves again and I can move around the space once more, the entire process will be fresh in my mind!
Then, I'll move on to my first reading of Spark Joy, the illustrated book outlining Marie Kondo's process. I've definitely got some qualities of a visual learner, so I think this will be a wonderful supplement as I go through each category!
I've also got my eye on her digital tidying course, Fundamentals of Tidying, which is particularly geared toward those visual learners. For now, I can't quite fit the investment into my budget. But it's something I'll be keeping an eye on for the future!
As I make my way through the KonMari method, I'm going to do my best to create a tidying marathon. I likely won't be able to take a few days off to focus on this project alone (like the clients in KonMari's Netflix series). But I'll try to keep tidying sessions within a few days of each other. And, of course, I'll go through one category (or sub-category) at a time!
My categories:
The KonMari method outlines five main categories: clothes, books, papers, komono (miscellaneous), and sentimental items. Within each category, there are smaller sub-categories to consider. Some people have hobby supplies to tidy, while others have children or pets, for example. My sub-categories look something like this:
Clothing
Undergarments

Bras
Panties
Socks
Bloomers
Tights/stockings
Camisoles
Swimsuits

Tops

Tank tops
T-shirts
Blouses
Sweaters
Sweatshirts
Jackets

Bottoms

Jeans
Leggings
Dress pants
Shorts
Skirts

Dresses & Rompers
Pajamas

Tops
Bottoms
Sets
Nightgowns
Slipper socks

Activewear
Loungewear
Accessories

Hats
Scarves
Gloves
Belts
Handbags
Hair accessories

Hair ties
Scrunchies
Headbands
Clips/Barrettes

Jewellery

Rings
Necklaces
Bracelets
Earrings
Books
Fiction
Non-Fiction
Poetry
Children's
Reference
Magazines
Papers
Manuals & warranties
Official paperwork (tax documents, financial records, pet records, official forms, etc.)
Receipts
Coupons
Action items
Komono
Toiletries

Skincare
Makeup
Hair products
Oral
Lotions
Perfume & deodorants
First aid
Medications
Stress relief

Stationery

Notebooks/Journals
Stickers
Pens/markers
Washi
Tools/accessories
Office supplies

Hobbies/Entertainment

LEGO
Video games
DVDs
CDs
Cassettes
Instruments
Crafting
Fitness gear
Papercraft

Electronics
Pet supplies

Food
Treats
Toys
Clothes
Care items (litter supplies, leashes, etc.)
Medications

Kitchen/Cooking

Plates/bowls
Glasses/cups/mugs
Utensils
Servingware
Cookware/bakeware
Small Appliances/Specialty Tools
Food

Fridge
Pantry
Spices
Snacks
Drinks

Laundry
Cleaning/Organisation
Decor
Sentimental
Letters
Playbills/Programmes
Photos
Stuffed animals/toys
Trophies
Mementoes
Of course, many of these sub-categories can be broken down even further. And, if you're implementing the KonMari method yourself, yours may look very different!
As I move through the process, I'll add updates here on the blog! I'm hoping the accountability will be the extra push I need to complete it!
The KonMari Effect
The bits and pieces of the KonMari method that I've been able to try already have made such a difference. I can only imagine the impact the full process will have! It's so much more than just creating a tidier space. The KonMari method truly changes lives.
Marie Kondo herself emphasises these effects in introducing the process. A few cases mentioned in the life-changing magic of tidying up:
I quit my job and launched my own business….

…I've been able to really increase my sales.

My husband and I are getting along much better.
If those aren't inspiring, I don't know what is! I'm excited to see how making my way through the full KonMari method changes my own life.
What comes next?
Obviously, this is looking into the future. But, once I've completed the process, I'm planning to turn to Marie's Joy at Work: Organizing Your Professional Life. I manage multiple businesses from home, so I'm excited for focusing on this subset of my life!