The Best Healthy Lifestyle Apps I Use Every Day
For a while now, I've been trying to be healthier. From working out regularly and monitoring what I eat to staying on top of vitamins and medications, I've found that my smartphone is an invaluable tool, thanks to some of the best healthy lifestyle apps I've used so far.
If you have a history of disordered eating or other conditions, some of these apps might not be a good fit. Be sure to consult your doctor with any concerns and remember: these recommendations are solely based on my own experience—I'm not a doctor, nutritionist, or other professional, just someone trying to be more healthy in her own life.
See our disclaimer for more information.
I use an iPhone, so these are all apps that are available in the Apple app store. If you use an Android or other OS, check your app store of choice for these apps or something similar!
Nutrition apps
If you follow me on Instagram, you probably already know my love for Plant Nanny. I've never been very good at staying hydrated, but this app makes all the difference. But watering an adorable plant (with a face!)? That's something I'm better at. From saving up seeds to grow new plants to keeping my current plant happy, I love how Plant Nanny motivates me to drink more water. I've connected the app to my Apple Health profile and log my daily total in MyFitness Pal, too, which then adds it to Fitbit as well.
Between Plant Nanny, my favourite BrüMates, and some easy strategies for drinking more water, I'm able to drink about a gallon a day more often than not!
Exercise apps
In addition to my physical chronic illnesses, I live with an assortment of mental health issues. Yoga helps me ease all of the above! From stretching out my notoriously tight hamstrings to calming my mind in savasana, yoga helps me feel better and be healthier.
During the height of the COVID-19 pandemic, Down Dog offered a free short-term subscription to their yoga app and I fell in love. Once that trial period ended, they were kind enough to offer me a few more complementary months, as I'd lost most of my freelance work thanks to the coronavirus. Once I had the funds later in the year, I was quick to invest in a subscription! With calming background music, helpful boosts, and customisable sessions, Down Dog Yoga is one of my all-time favourite healthy lifestyle apps.
I'm not sure I'd call myself a runner in the traditional sense. With chronic pain, migraine, and other issues popping up regularly, it's hard to commit to a running routine. But, when I do set out to walk a bit more than needed (admittedly, this is pacing through the kitchen more often than not!) or spend some time on the treadmill, I love being able to not just help myself but give back in the process. Charity Miles is a great tool for doing just that! As always, be sure to research the charity you choose. For example, Autism Speaks (which many autistic people have deemed problematic) is listed as a possible charity to donate miles to. Choose a charity that you genuinely want to support—I'm currently donating to World Wildlife Fund!
Charity Miles' founder and CEO, Gene Gurkoff, has recently started a Sleep For Charity beta program, too. I've struggled with committing this one, thanks to some late nights of work, but I'm determined to get on board with some of these better sleep habits. In fact, getting more sleep is an item on my 101 in 1,001 list!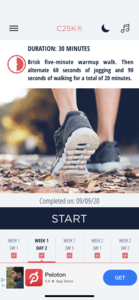 While I'm not exactly a runner, I'm determined to get a little closer to that status. The first step? Working through the Couch to 5k programme! Last year, I'd started C25k but had an accident that left me pretty badly banged up. I'm only just working up the courage to get back on the treadmill but I'm excited to make my way through!
With my Fitbit Versa 2 hooked to my wrist almost 24/7, the Fitbit app is a must! I track my workouts and daily steps with my Fitbit, have MyFitnessPal attached for tracking water and food, and wear it to bed to track my sleep. I also keep an eye on my heart rate with my Fitbit smartwatch and app. With tachycardia and some other heart concerns, so it's all the more important to have at least an idea of where my heart health stands.
General Healthy lifestyle apps
The K Health app is a bit buggy still, but it's already one of my favourites as-is. Between COVID-19, my unrelated health concerns, and my non-stop work schedule (why do I write like it's going out of style?), I've never managed to find a local GP. With K Health, I'm able to get the medical treatments I need from home! Whether it's primary care or mental health treatment, K Health's telemedicine is here for me, and you. You can even try out their symptom checker without chatting with a doctor!
Between prescriptions, vitamins, and other medicines, I take some sort of pill or other medication about eight times a day. Medisafe helps me stay on track! I'm still far from perfect when it comes to keeping up with my meds. But the reminders, and the creative pill bottle notification sound that comes with them, help. I even include Fitz's wet food and occasional medicines as a dependent so I keep his health in tip-top shape!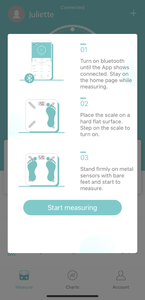 Hooked up to our smart scale, Fitdays provides some amazing measurements. I step onto the scale about once a week and keep track of not just my weight, but my BMI, BMR, and other measurements. The graphs and other data in this app are impressive—it's like a tiny digital bullet journal all about my health!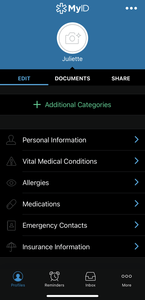 I haven't ordered a MyID bracelet or sleeve of my own yet, but it's on my wishlist. And, in the meantime? The app itself is amazing! With so many existing health concerns, allergies, and medications, I worry about what would happen in an emergency. MyID lets me save medical conditions, insurance information, emergency contacts, and more to stay safe in a worst-case scenario.
Apple Health comes pre-installed on an iPhone and provides plenty of tracking options and other tools to keep on track with my healthy lifestyle. In addition to keeping track of items I track in other apps all in one place, Apple Health offers additional information, like headphone audio levels. And, with additional articles and resources to learn more, there are plenty of chances to become more healthy in the process.
Need a little extra motivation to be healthier? Achievement will compensate you for your efforts! With this app, you'll earn points for tasks like tracking your sleep, steps, food, and heart rate, tweeting about health-related topics, or meditating. Once you've reached 10,000 points, you can redeem your points for a PayPal transfer—real, actual money! Sign up through my referral link and we'll both earn bonus points, bringing us both closer to that payout.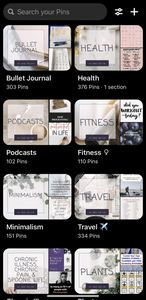 Pinterest isn't your typical healthy lifestyle app, but it's an important tool in my digital health arsenal. From finding new fitness routines to reading through health tips, Pinterest has all the inspiration I could need!
Looking for a bit of healthy lifestyle inspiration of your own? Check out our health, fitness, or chronic illness boards, or give us a follow on Pinterest for all of the above and more!
With so many apps available to track and manage a healthy lifestyle from your phone, there's a tool for just about every health and fitness need. Do you have a favourite app that isn't listed here? Let us know in the comments so I can check it out, too!