The Ultimate Guide to a Cruelty-Free Valentine's Day
Valentine's Day only comes around once a year. And, while it's chided by cynics as overly commercialized, Cupid's favourite holiday really does lend itself to all things romance. Want to give the environment a Valentine? Set yourself and your sweetheart up for a cruelty-free Valentine's Day, with all the red-and-pink-heart trappings the celebration warrants.
Skip ahead:
Clothing
As Laurie of The Laurie Loo writes about affordable ethical clothing, "In the past 5 or so years Old Navy [and H&M, later in the post] has improved their ethics immensely, and honestly I think the quality of their clothing has improved too." These are two of my favourite budget-friendly brands, too! If you're looking for an ethical date night look that won't break the bank, look no further—and save those extra funds for the rest of your cruelty-free Valentine's Day.
Shop H&M's full line of sustainable women's fashion or learn more about their sustainability efforts. Or, learn more about Old Navy's sustainability plan.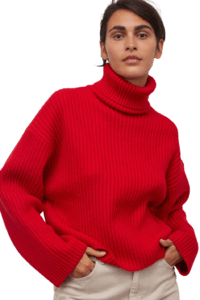 If you live in a climate like mine, it's as important to stay warm on Valentine's Day as it is to look good!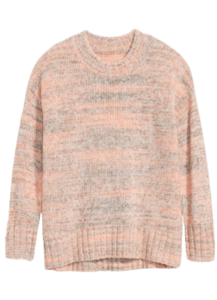 Stay warm & absolutely cosy in this oversized sweater.
Splurge on this gorgeous, ethical top, and know your Valentine won't take their eyes off of you all night.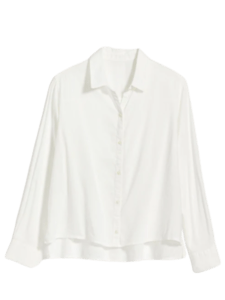 This blouse would be such a classic addition to your cruelty-free Valentine's Day look!
Denim is another classic, as are pencils skirts. Put them together and what've you got? This gorgeous skirt from H&M!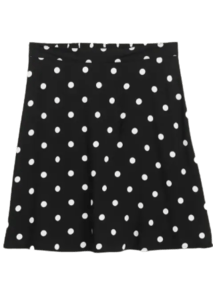 Looking for a skirt with more flow? This is a perfect choice, with the bonus appeal of polka dots!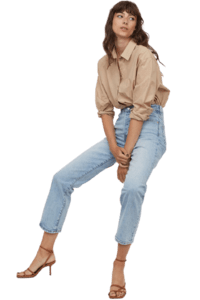 Add a touch of vintage to your casual Valentine's Day look with these vintage-inspired jeans.
Will the black colour or the skinny cut of these jeans be more flattering? All of the above!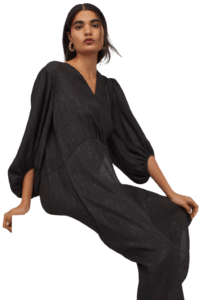 This stunning dress will give a whole new meaning to "LBD."
This form-fitting dress simply screams "be my Valentine!"
LINGERIE
If you're planning a particularly sexy cruelty-free Valentine's Day, you'll need some ethical lingerie!
This bodysuit combines a sexy deep V with a brilliant red lace for the perfect Valentine's Day combination.
Classic black more your style? This bodysuit showcases black lace in a style that's simultaneously sexy and not showing too much skin.
I love rompers of all kinds, so it's no surprise that this piece caught my eye! And that "Nocturnal Blue" shade is absolutely to die for.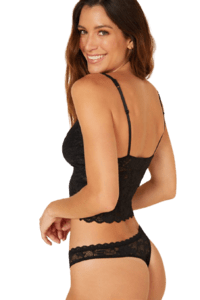 Prefer a set of separates? Check out Cosabella's Never Say Never collection in its entirety to mix and match your favourite styles!
This set by Mary Young combines an almost athletic silhouette with a sheer fabric that's sure to have your partner's eyes on you from the moment they spot it.
Accessories
As great as those sustainable clothing options are, your cruelty-free Valentine's Day outfit won't be complete without some ethical accessories! Jewellery is a must and, in the current state, so are face masks. And don't forget a great pair of shoes to finish your look!
I first connected with Niyanta on Instagram and have been staring longingly at her gorgeous jewellery ever since! These earrings are just one example of her incredible work. From her website: "All your jewellery will be safely sent in eco-friendly recycled card boxes. I'm committed to being as environmentally friendly as possible. When you buy from me you are helping to build a dream. I want to run my own jewellery school in India to teach children how to be confident and be brave enough to follow their own dreams." I couldn't create a more persuasive reason to order from her shop if I tried!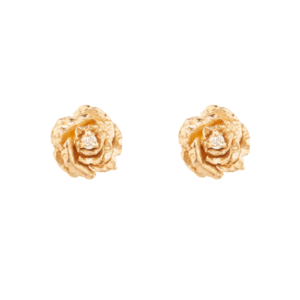 I've been a longtime fan of Catbird and their ethical accessories from afar, and these stunning studs are no exception. Get yourself roses this Valentine's Day by treating yourself to these earrings!
Help save the sea turtles, rock an adorable bracelet, and coordinate a simple accessory with your cruelty-free Valentine's Day outfit? Say no more. Pura Vida is one of my all-time favourite brands, and they have an incredible impact, even as they give us some absolutely stunning accessories.
I've seen countless ads for Brilliant Earth on Instagram and other platforms, but I hadn't scanned their site for myself until researching this post. There are some absolutely gorgeous pieces, like this bracelet! Plus, with "Beyond Conflict Free" diamonds, responsible sourcing, recycled gold, and other give-back efforts, you can feel good about supporting the company.
You can't get much more Valentine's Day-y than hearts, right? Even better if they're rose gold! This one is definitely on my ever-growing Pura Vida wishlist.
If you'd rather not be as festive as a ring of hearts, this simple ring with a chain accent will give a touch of elegance in a beautiful, dainty way.
I live by an important rule: there's no such thing as too much rose quartz (I mean, come on…can you have too much self-love or soothing energy?). I just might need to get my hands on this necklace for myself soon!
My Catbird wishlist grew exponentially while writing this post! How beautiful is this ruby necklace? The perfect showpiece for a simple neckline—this piece demands to shine!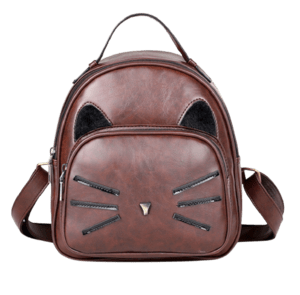 I have had my eyes on this bag for an absolutely inordinate about of time. One of these days, I'll splurge but, for now, I'll share it with you! This adorable vegan cat-pack will add a sweet touch to your cruelty-free Valentine's Day look. No Faux Vegan is an absolutely inspiring brand that showcases vegan & cruelty-free accessories alongside ethical insights and information.
I had no idea that Stella McCartney had vegan handbags! This one is most definitely going on my wishlist (and a few others, I'm sure!), especially given their social sustainability and environmental impact efforts.
This bag instantly caught my eye as reminiscent of the classic Chanel crossbody bag. It's a perfect way to make an elegant fashion statement while staying true to your beliefs—the Grace mini crossbody is made from pebble textured vegan leather and Angela Roi, the company behind the bag, is dedicated to ethical accessories.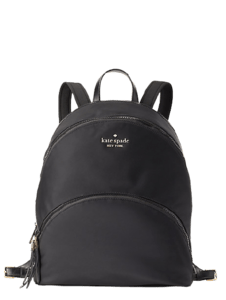 I love the look of Kate Spade's bags and accessories, but all too many use genuine leather. Fortunately, there are a few exceptions, like this beautiful nylon backpack!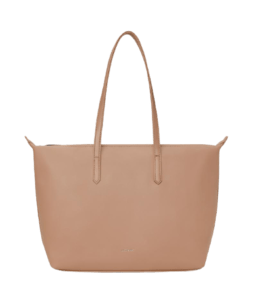 Worried about having to carry more than your go-to handbag can carry? A tote bag, like this one from the vegan, sustainable, ethical brand Matt & Nat, can give you space for all the essentials without sacrificing style in the process.
Skipping out on leather doesn't mean you can't pull off the aesthetic of high leather boots. Reach for a pair of vegan leather boots, like these from Moo Shoes!
In cooler climates especially, a good boot is a Valentine's Day must-have. These are especially fashionable, and vegan, too.
A simple pair of pumps can make a big impact, especially with a subtle blush colour like these. VEERAH is committed to sustainability and feminine strength, with enough vegan shoe options to rival Carrie Bradshaw's closet.
I'm not sure it's possible to see these shoes and not have to catch your breath. And I say that from just seeing them on the internet! Cult of Coquette is another vegan option that's sure to please.
More of a flats fan? These VEERAH flats are stylish despite being close to the ground—perfect for my fellow clumsy fashionistas.
Going for a casual vibe for your cruelty-free Valentine's Day? These TOMS will keep you comfy all night! Not familiar with the company's global giving and other efforts? Read up on the TOMS impact and feel even better about your Valentine's Day leopard-print slip-ons.
I'm genuinely afraid to count out just how many Old Navy face masks I've accumulated throughout the coronavirus pandemic. What can I say—having chronic illnesses and being at high risk of COVID doesn't mean you can't be fashionable! This pack of five masks is the perfect addition to your sweetest Valentine's Day style.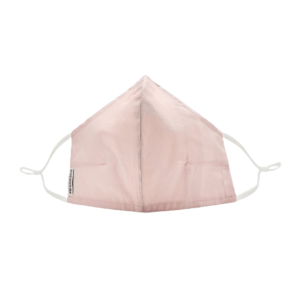 Add a subtle nod to the holiday with this simple blush pink mask from Pura Vida!

This five-pack of masks has pink, red, and floral options for Valentine's Day and beyond.
I honestly love just about everything Kate Stoltz does, and her face masks are just one example. I haven't ordered one of her Valentine's Day prints as of this writing, but I just might have to add one to my growing collection! In addition to her philanthropy efforts, I was super excited when my most recent order came in environmentally-friendly packaging, too.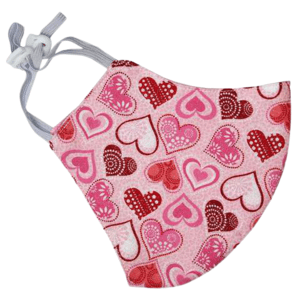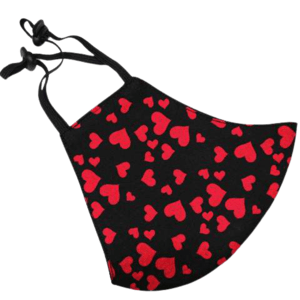 Coordinate with your little black dress or avoid drawing attention away from your outfit with a solid black face mask.
Cosmetics
No Valentine's Day date would be complete without putting together the perfect look! e.l.f. & Shop Miss A are two of my go-to cosmetics brands (and both are super budget-friendly, too!), and sell exclusively cruelty-free makeup. The options I've linked to here are all vegan cosmetics, too! Want even more makeup inspiration? I love Urban Decay for a more high-end look, or you can always head to your local ULTA Beauty store to get some staff suggestions.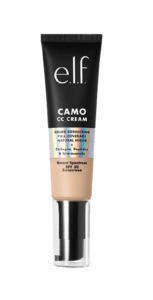 Start with a creamy base coat for the perfect canvas to build your cruelty-free Valentine's Day look.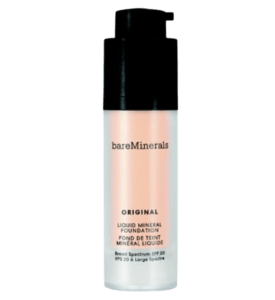 Hoping for a bit more coverage than a CC cream will provide? I had the chance to try this newly released bareMinerals foundation (which also happens to be vegan and cruelty-free)and absolutely love it!
The "Rose Water" palette would be especially fitting for a cruelty-free Valentine's Day!
If there's ever an occasion for a rosy cheek, it's Valentine's Day. This e.l.f. multi-stick can be used beyond your cheeks, too!
Feeling indecisive? This vault of lip colours will give you plenty of options to find the perfect addition to your makeup look! And the shades couldn't be better for Valentine's Day.
Want to apply your favourite eye products and support a wonderful charity programme? Look no further!
Want to frame your favourite feature? Faux lashes can be the perfect accent to make your partner say "wow!" Miss A has a wide variety of options for every preference.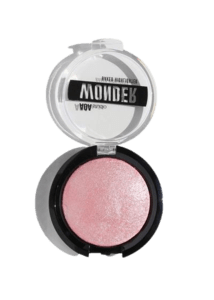 A little sparkle can make a big difference on Valentine's Day or any day. Miss A's highlighter is as budget-friendly as it is beautiful.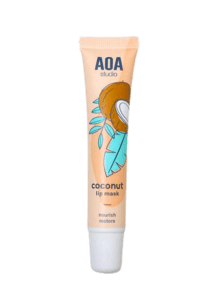 This coconut lip mask is a new addition to my own beauty supplies, but it's quickly become one of my favourites! It will help your lips be perfectly kissable for the big night. Plus, A+ is another charity initiative you can support through Miss A!
Crossing your fingers that the gorgeous makeup look you put together stays put all night? Urban Decay has got you covered with this setting spray so you can keep the party going.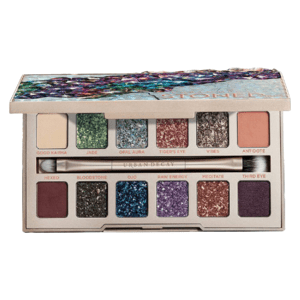 Craving some vegan Valentine's Day sparkle? This gem-inspired eyeshadow has glitter and gorgeous jewel tones that will make sure all eyes are on you.
Food
Most date nights, especially on Valentine's Day, focus on food. Create a delicious meal with these vegan appetizers, entrees, and desserts!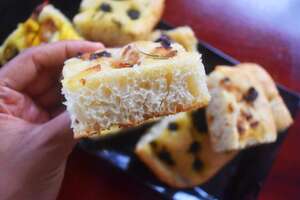 Start your meal off with this easy vegan focaccia by Mix Up and Blenda for a tasty, elegant appetizer.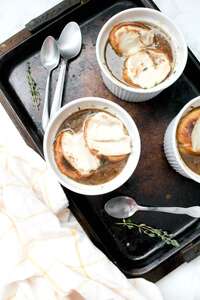 I have fond memories of serving French onion soup in my school's French club before going vegan. I can hardly wait to try this vegan-friendly version for myself!
Fun fact: every time I hear someone mention mushroom ravioli, I think of Edward & Bella's "first date" in Port Angeles in Twilight! Vampires aside, this dish is as beautiful as it's sure to be delicious.
I've been meaning to try Sam's seitan steak recipe for ages—Valentine's Day sounds like as good a time as any to test it out!
When a recipe calls itself the "best," I'm usually wary. But this one's telling the truth!
You can't get much more in the spirit of a cruelty-free Valentine's Day than with these yummy vegan jammy dodgers!
Cards
Whether you can't be with your favourite person on Valentine's Day or you're just looking for a way to brighten their day, a card will go a long way.
Ever wish you could plant the cards you give and receive each holiday? Plantable seed cards can make that dream a reality!
Share a Björk reference alongside this eye-catching card!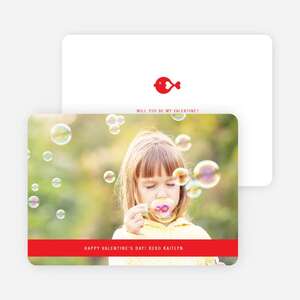 This photo card is sure to put a smile on your loved one's face. Better yet? It's printed on eco-friendly paper and Paper Culture plants a tree for every order.
Bond with your loved ones over all things weird, strange, and beautiful? This is the card for you!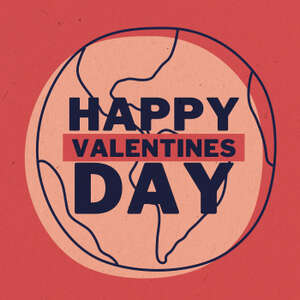 If you're open to a digital alternative, this is a great way to spread the love and help the earth! Friends of the Earth offers a variety of beautiful ecards for Valentine's Day and other occasions.
Flowers
Flowers are a classic addition to any Valentine's Day. Did you know that 1800Flowers has a fair trade flower delivery line? Have a beautiful bouquet from their Planet Friendly Smile Collection delivered to your sweetheart to keep them smiling every time they catch the scent.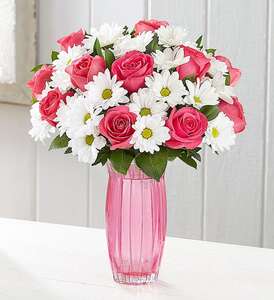 These bright, cheery flowers are perfect for Valentine's Day! 1800Flowers offers other rose-centric bouquets, too, if you're not sold on pink.
This medley of purple and white flowers and greenery is like a breath of fresh air.
If you and your loved ones have allergies, aren't fond of typical flowers, or want something that will last longer than a holiday bouquet, consider a pot of greenery, like this air-purifying snake plant!
Chocolates
It wouldn't be Valentine's Day without chocolate! Maybe you want to avoid the excess waste that comes with a classic heart-shaped box of chocolates. Vegan or dealing with a dairy allergy? Health-conscious? Simply looking for something different this year? Your cruelty-free Valentine's Day comes with plenty of chocolate options.
Salted chocolate, salted caramel…a bit of sea salt just makes your favourite sweet better!
My first spot when I came across this chocolate bar on Catbird's website? "I have never needed anything more." Rose flavour, cats, and vegan chocolate? That, my friends, is a recipe for heaven.
Is your significant other having a tough time choosing between you and coffee as their Valentine? Make the choice easy with these organic, vegan-friendly chocolate-covered espresso beans.
I fell in love with this gourmet chocolatier back in Bath, but only recently learned that Hotel Chocolat has a US presence. Who could say no to more than two dozen delicious chocolates?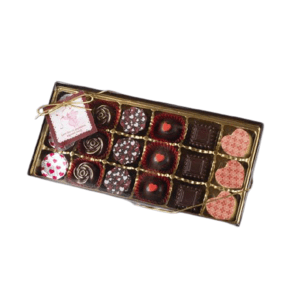 If you've read my Vegan Treats review, you know that this Bethlehem, PA bakery is a spot that's close to my heart. I've yet to try their chocolates for myself but, based on how quickly they sell out every holiday, I have no doubt whatsoever that they're phenomenal!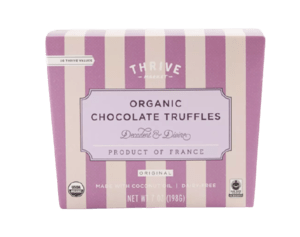 Truffles are a quintessentially Valentine's-ready treat. These organic truffles from Thrive Market are vegan-friendly and a product of France. Ooh-la-la!
Have a more health-conscious partner? These chocolate protein bites by Enjoy Life offer the taste of chocolate (and a holiday-ready raspberry) with some extra protein to keep you (and your sweet tooth) satisfied, even if it's not time for a cheat day.
Candles
Set the mood with a little better-for-you candlelight! Soy candles offer a more natural, renewable wax source and a cleaner burn—with all the ambience of your standard candle!
What could be more appropriate for this occasion than a candle labelled "love?"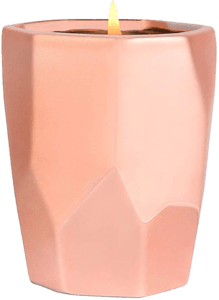 Not only does this beautiful pink jar reflect a distinctly Valentine's Day feel, but this candle is also an editor's choice for "most romantic" on Amazon!
Admittedly, they had me at "kitten." But "dusty records, lipstick, & feather pillows?" That sounds like the smell of romance.
If you're sensitive to scents, dyes, or other additives, go for the most natural option possible, like this candle from Bear Natural Organics.
How will you and yours be spending your cruelty-free Valentine's Day?