Amazing Marvin for Spoonie Productivity
When you're chronically ill, productivity can feel impossible. Our limited energy and problematic executive functioning beg for tools specially designed to meet our unique needs. In my experience, one of the best productivity apps is Amazing Marvin for spoonie productivity.
*This post may include affiliate or referral links. At no extra cost to you (and with a special reader discount, in some cases!), I'll receive a small commission or other rewards to help support An Ideal Life. As an Amazon Associate, I earn from qualifying purchases*
The information in this blog post is provided for educational and informational purposes only and should not be construed as medical advice. The content is not intended to be a substitute for professional medical advice, diagnosis, or treatment. Always seek the advice of your physician or other qualified healthcare provider with any questions you may have regarding a medical condition. Never disregard professional medical advice or delay seeking it because of something you have read online. The author of this post is not a licensed medical professional and does not assume any liability for any actions taken based on the information contained in this post.
Marvin incorporates principles from behavioral psychology to help you conquer procrastination, feel in control, and get more done with less stress. It goes beyond basic to-do lists by offering advanced customization so you can tailor your workflow around your changing health needs and abilities.
What is Amazing Marvin?
Amazing Marvin is "a web and app-based task manager designed specifically with neurodivergent and chronically ill users in mind"personal productivity tool that helps you feel more organized, be in control of your life and get things done. But what makes it so great for spoonie productivity?
Reduce Procrastination With Science-Based Design
Amazing Marvin's thoughtful design stems from proven techniques in behavioral psychology that target the root causes of procrastination:
Break Down Overwhelming Tasks
Marvin helps break large, intimidating tasks down into smaller, more manageable subtasks. This makes it less likely for your brain to go into fight-or-flight mode when faced with a major to-do. Taking it one step at a time is much less stressful.
Pro tip: use a resource like Goblin Tools to help work out these subtasks automatically!
Prioritize Where to Focus Limited Energy
With spoonie energy at a premium, Marvin allows you to star or highlight your most important tasks. This clears away the clutter so you know exactly where to allocate your limited energy first.
Gain Motivation From Tracking Progress
Marvin has stats and charts that visually display your growing productivity over days, weeks and months. Seeing tangible proof of your progress gives an encouraging boost when your symptoms threaten to sabotage your motivation.
Build in Accountability
For times when executive dysfunction is winning, tell Marvin to assign certain tasks to an accountability partner. Knowing someone else is checking on you helps instill follow-through.
Gamify Tasks With Rewards
Marvin makes completing tasks fun by letting you earn points and badges. You can even schedule little rewards into your day. Playing productivity like a game hijacks your brain's competitive side.
These science-backed features give your executive function-challenged brain the structure and motivation it needs to kick procrastination and get working.
Customize Your Workflow For Each Day's Abilities
With Amazing Marvin, you aren't locked into rigid schedules that ignore your ever-changing symptoms and capacities. Instead, you get ultimate flexibility to customize daily workflows around how much energy you have:
Assign Tasks to Energy Level Categories
Marvin allows creating tags like "high-energy tasks" and "low-energy tasks." On high spoon days do more demanding work; save simpler tasks for when your symptoms flare. Or, use custom labels like "Needs Ergonomic Set-Up" for tasks requiring accommodations to avoid overexerting yourself accidentally.
Designate Priorities For Lowest Stamina
Star or highlight your most essential tasks for days when your stamina bottoms out. Focus on doing the bare minimum priorities first before attempting anything else.
Schedule Recurring Tasks Without Repetition
Marvin lets you schedule repeating tasks on certain days/times. Say goodbye to the drudgery of manually entering daily routines like medications or chores.
Move Lower Priorities to a Backburner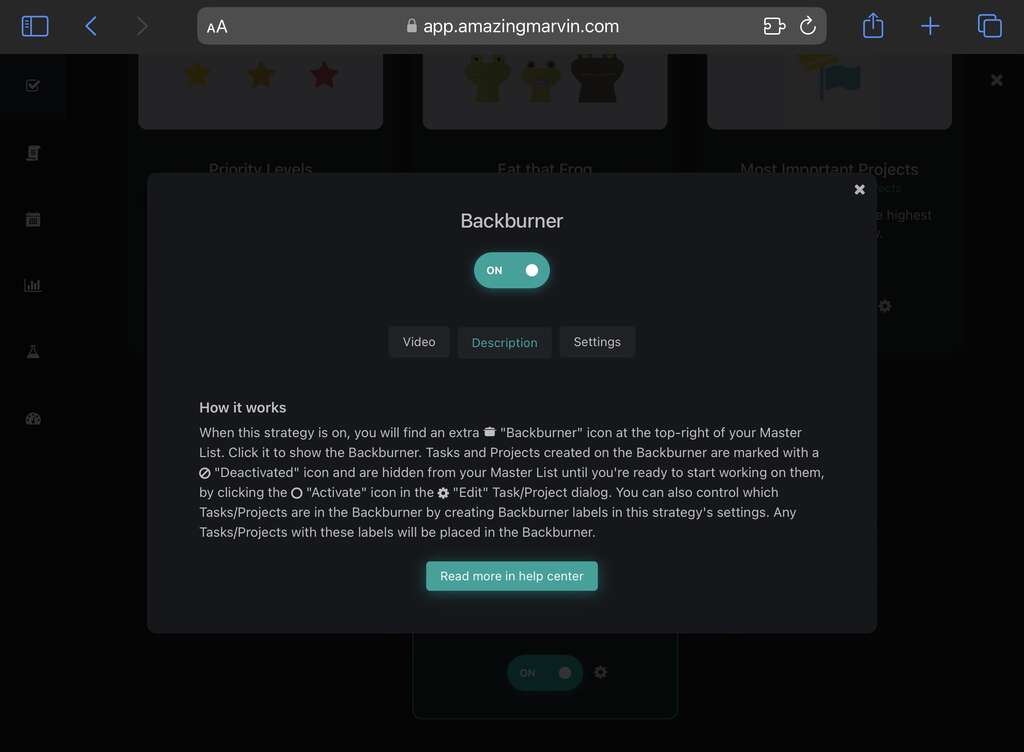 Send less urgent tasks to a backburner area in Marvin—out of sight, out of mind until you're ready to tackle them. Remove distractions so you can focus on what matters most.
With Marvin, you can focus on tasks based on your available time and effort, so you never bite off more than you can chew!
Unique Features That Solve Spoonie Struggles
Amazing Marvin stands out from other productivity apps with thoughtful features targeting common struggles for spoonie productivity:
Track Symptoms Alongside Tasks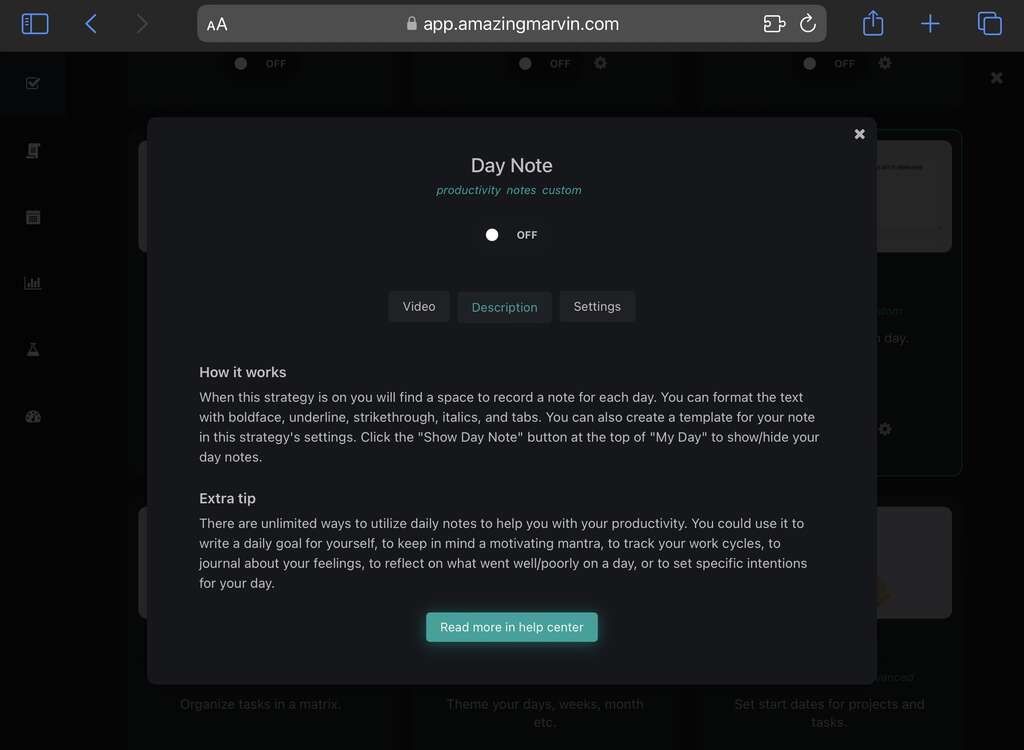 Monitoring symptoms in Marvin alongside your productivity can reveal insights about triggers and cycles, helping you detect patterns early to better adapt!
Daily Productivity Targets Prevent Overexertion
Marvin helps set reasonable daily and/or weekly targets for completed tasks. Moving the needle little by little prevents burnout better than pushing too hard.
Get Reminders to Combat Distraction
Marvin's reminders and notifications help pull your focus back when concentration drifts. No more forgetting tasks mid-brain fog!
Brain Fog-Friendly Visual Design
Marvin's clean and simple interface cuts through clutter so your brain can process tasks more easily when concentration is compromised. It even encourages you with (optional) fun animations as you cross things off your to-do list!
Marvin takes our executive functioning deficits and motivation lulls into thoughtful account, equipping us with science-based tools for success.
A Spoonie Productivity Partner You Can Trust
At the end of the day, Amazing Marvin is the productivity app spoonies can trust to have our best interests at heart. The designers intentionally built in flexibility and customization so we can use Marvin in the way that best supports our needs, not the other way around.
Whether you're looking to create more balance, feel empowered, or simply tackle your to-do's with greater ease, Marvin has the features to optimize your unique workflow. Boost your spoonie productivity with this game-changing app!
Marvin is available as a subscription (billed monthly or yearly, $8-12 per month) or for a lifetime purchase of $300. This spoonie productivity tool is available as an app for Mac, Windows, or Linux, as an iOS or Android app, or in your browser!