My Mobile Office in a Bag
As a full-time freelancer–blogger–poet–publisher, I was working from home long before COVID-19. In fact, I've done exclusively remote work since graduating college! With my various chronic illnesses, it's the best way by far to earn a living without harming my health. Along the way, I found that keeping my most important tools in my very own mobile office in a bag is key to being as productive as possible.
*This post may include affiliate or referral links. At no extra cost to you (and with a special reader discount, in some cases!), I'll receive a small commission or other rewards to help support An Ideal Life. As an Amazon Associate I earn from qualifying purchases*
I'm fortunate to have a small section of the living room to use as a workspace. But being a small corner of a room that's used by the rest of the family, it has limited space for supplies. With that in mind, my mobile office in a bag has become all the more critical.
Really, my office in a bag is used in conjunction with that workspace and a bit of storage space dedicated to my various businesses. With the latter, I can swap out supplies as needed to blog from bed or reach out to clients from my "office." Not only does this system keep me organised, but it also keeps me from trying to carry more than I should.
My Mobile Office in a Bag
I use this colourful Vera Bradley tote I got in a Her Campus survival kit years ago. It's slowly starting to show its age with some fraying on the straps, but I absolutely adore it still. It's the perfect size to hold all my essentials without getting too heavy to manage. Plus, the vivid pattern adds such a (literal) bright spot to my workdays!
What's in my mobile office in a bag?
As I mentioned above, I swap out certain supplies as needed for the day's projects. But there are a few pieces that stay in the bag consistently—unless, of course, they're in use at that moment!
Laptop
When it comes to remote work, a computer is priority number one. This caused some problems last year, as the Chromebook my sister had passed on to me met its fate. For the time being, I'm using an HP Stream to work each day. It's not perfect, but it gets the job done! And, just as importantly, it was affordable in my desperately-need-a-working-computer-right-now crisis. I plan to upgrade to a Macbook down the road but, for now, the Stream handles my day-to-day business needs. I've added plenty of stickers, too, to let it bring a smile to my face!
Computer accessories
In addition to my laptop itself, I keep a variety of accessories in my bag to get the most out of my digital efforts. Right now, the list looks like this:
Charger (always important!)
MicroSD card – a simple microSD card makes up for the Stream's lack of storage space and lets me salvage files if another computer crisis arises.
Headphones – I actually use a few, depending on the context! I'll use my Beats or these wireless Bluetooth headphones for transcription projects or needing to block out noise for focus. On the rare occasion I have to hop on a Zoom call or the like (I've only done one, actually—my disabilities aren't fond of phone/video calls), I switch to these simple earbuds. Hopefully, I'll be adding a set of AfterShokz to my arsenal soon, too (use my referral link <- to save $10 on your first purchase!).
Blue Light Blocking Glasses
From the minimal research I've done, there's little strong evidence to support the need for blue light glasses. But, placebo or not, I seem to see a difference. I snagged a four-pack of blue light glasses on an Amazon lightning deal and keep the pink pair in my mobile office in a bag (inside a simple plastic case from Dollar Tree). The clear pair lives next to my bed, for nights when I can't resist scrolling until I start getting sleepy!
Planner
After testing out some of their downloadable pages, I knew I wanted to try a Day Designer planner myself. Mine is a part of the Day Designer x Blue Sky collaboration (this one, to be exact!), but reminds me so much of the higher-end flagship planner. The Blue Sky collab is a bit simpler, but the affordability is perfect for my current plans! I pair my planner with these pens to colour-code to my heart's content—I even keep a colour key washi taped to the inside cover!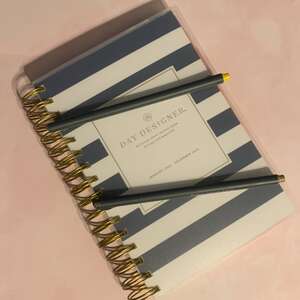 Bullet Journal
In its current stage, I'm not using my bullet journal as a planner. But I am utilising it for a lot! I keep my bullet journal in my mobile office in a bag, as well as an assortment of Sakura Pigma microns, Zebra mildliners, and my favourite Papermate flair pens.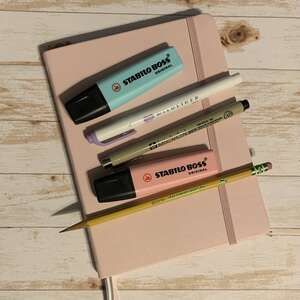 pens
In addition to the pens I use with my planner and bullet journal, I keep others on hand for various note-taking and similar tasks. Right now, I'm absolutely adoring these minimalistic rose gold pens and a Bic Atlantis pen I got as a free sample with a recent Walmart Grocery order.
Pencils
Sometimes you need something erasable! That's where a trusty pencil comes in—my go-tos are Dixon Ticonderoga or Pentel mechanical drafting pencils.
Highlighters
Zebra mildliners are popular within the bullet journal community, but I use them for so much more than my bullet journal itself! Lately, my most common use for them is with some printables from The Budget Mom. But, really, hardly a day goes by that I don't pick up my pouch of mildliners for something! More recently, I've added a few Stabilo BOSS highlighters and a pack of Pilot FriXion erasable highlighters to my collection, for when I'm looking for a little less variety or greater flexibility.
Notebooks
I have yet to order an entire case of these 3×5 notepads, but I probably should! I insist on having a few of these notebooks (or these similar notepads) on hand for everything from to-do lists to noting important information. They're so darn convenient! I also try to keep a basic legal pad or two (whether they're simple white or pretty colours) and will sometimes add a mini composition book for sudden bursts of creative inspiration.
Beyond the bag
I try to keep as much as possible in my mobile office in a bag, for convenience's sake. But I can't always include everything! A few essentials that I use daily but don't necessarily include in the bag:
Cell phone & charger – my iPhone XR has pretty good battery life, but I'm on it so consistently that I still need to recharge at the end of the day!
Water bottle – I'll often keep a few different water bottles throughout the day! Most often, I'll be sipping from my Brumate winesulator or Cirkul bottle.
Coffee – if you've been following me a while, you know this is a necessity!
As of this writing, these are the must-have items I keep in my mobile office in a bag. And, as I balance my freelance work, blogging, small press, and writing efforts from this tote, I have to say it's working!



Do you use a mobile office in a bag? What do you include in yours?