Chronic Illness Products on My Wish List
If you've been following me over on Instagram, you've probably noticed that the symptoms of my various chronic conditions have been increasingly unignorable. As I go through the diagnostic process (with my incredible new doctor!), I'm slowly accumulating tools that make disabled life a little easier. However, there are still quite a few chronic illness products on my wish list!
*This post may include affiliate or referral links. At no extra cost to you (and with a special reader discount, in some cases!), I'll receive a small commission or other rewards to help support An Ideal Life. As an Amazon Associate, I earn from qualifying purchases*
The information in this blog post is provided for educational and informational purposes only and should not be construed as medical advice. The content is not intended to be a substitute for professional medical advice, diagnosis, or treatment. Always seek the advice of your physician or other qualified healthcare provider with any questions you may have regarding a medical condition. Never disregard professional medical advice or delay seeking it because of something you have read online. The author of this post is not a licensed medical professional and does not assume any liability for any actions taken based on the information contained in this post.
VIM & VIGR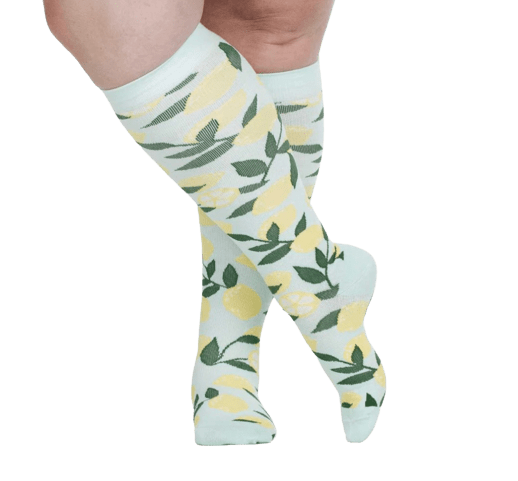 I was diagnosed with neurocardiogenic syncope more than a decade ago and one of our current theories is POTS, so I'm painfully familiar with dysautonomia. Pair that with my chronic pain and you have the basis for quite a love affair with all things compression!
When I first spotted VIM & VIGR's compression socks, stockings, and other essentials, I added them to my mental wish list instantly. I mean, latex-free compression options with designs as cute as lemons? Count me in! When I eventually give these a try, I'll report back but, for now, my expectations are definitely high.
CEFALY Migraine Device
Over the years, I've amassed quite the collection of ways to cope with my chronic intractable migraines. I've seen this nifty device all over TikTok and other social media platforms lately and am so intrigued! The more I learn about Cefaly, the more determined I am to give it a try ASAP.
Neo-Walk Walking Stick
I'm still trying to incorporate my mobility aids into everyday life–it's easier said than done to have friends and family support such a blatant change! From the moment I first spotted Neo-Walk walking sticks, I knew I would be adding it to this list. I mean, who can turn down glitter? I think the Gatsby design (shown above) is my number-one pick, but I love others, like their Funfetti, Bubblegum Blush, Emerald City, and Lilibet styles.
Allay Light Therapy Lamp
I first stumbled across this migraine tool through Cove and it's been more or less on my radar ever since. I've had some luck with green color therapy glasses for migraines, so I've got pretty high hopes for the Allay light therapy lamp!
Embr Wave
Embr Labs has sponsored a few episodes of Morbid: A True Crime Podcast (which I can't recommend enough for my fellow true crime aficionados—and be sure to preorder Alaina's debut novel!) and the Embr Wave definitely caught my eye. My symptoms include heat intolerance and general temperature dysregulation so the thought of having such innovative control most definitely catches my eye.
90-Count Liquid IV
Liquid IV is already one of my favorite things (pretty much ever) and I definitely hope to invest in one of these bulk packs! Electrolytes help so much with my dysautonomia symptoms and Liquid IV is my personal favorite source. I try to keep plenty on hand and this would make that easier than ever!
Grace & Able Compression Gloves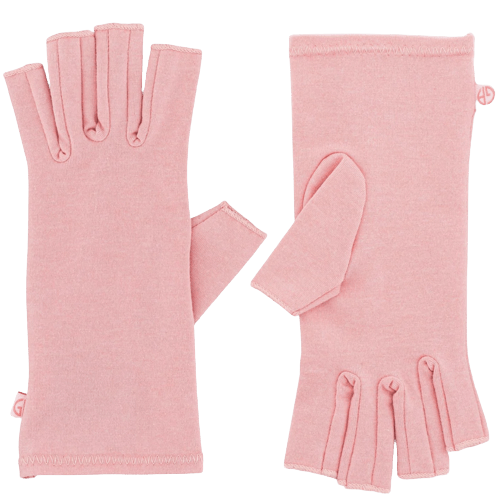 I'm pretty happy with the compression gloves I have already but I've heard so many good things about Grace & Able! I'd definitely like to give this brand a try, with either their standard compression gloves (can we discuss that gorgeous ballet pink?) or the arthritis care kit (or both!).
DOSEY Pill Planners & Organizers
When I first spotted DOSEY's pill organizer products, I sort of shrugged it off. I love my current pill case, so why would I need a different one. But the more I've seen of their pill purses, wellness wallets, and other stylish items, the more I fell absolutely in love. My dream setup is a matching pink wellness wallet and pill purse with their matching flask—the flask alone is such a brilliant idea!
Upright GO Posture Trainer
Simply put, my posture is terrible. Between neurodivergence, hypermobility, and life in general, I'm sure it has some impact on the pain I'd deal with already. I have a more conventional posture corrector already but rarely use it as it irritates my skin. Something like the Upright Go strapless device seems like an ideal solution!
Pink Stork Mist
I've used and loved Pink Stork's nausea sweets for motion sickness and nausea so I have no doubt that their topical magnesium spray will be equally wonderful! I'm planning to try this one for pain, nausea, and everything in between. I love that their brand is woman-owned, too!
Pain Relief Eye Mask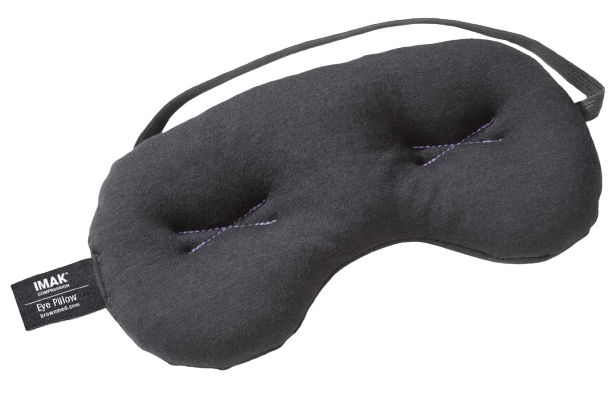 As-is, eye masks are an absolute lifesaver (I love the conventional style as well as these warming eye masks from Miss A) when it comes to migraines and other flares. The "ergoBeads" in this particular eye mask have certainly piqued my interest!
Hug Sleep Pod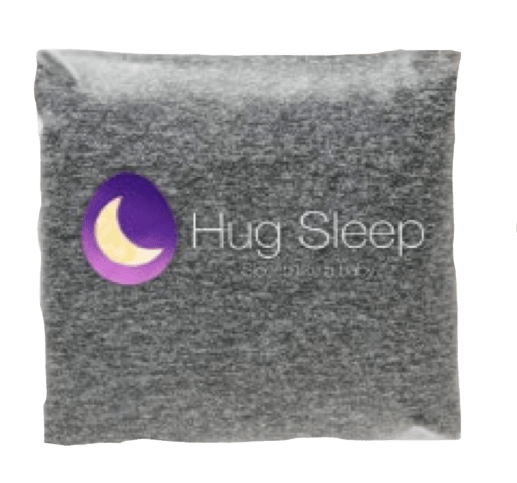 My weighted blanket is one of the single best things I've ever owned. The Hug Sleep Pod looks like such a fantastic alternative for nights when my pain sensitivity might be too much for extra weight!
HomeTop Hot Water Bottles
Storytime! Back in Bath, I purchased a wonderful hot water bottle. In addition to the classic rubbery bottle, it came with an adorable "sweater" covered in paw prints for a cover. While the bottle itself followed me to the States, that sweater got lost along the way. I haven't found an exact replacement but I'm loving these options from HomeTop. Their 2.25 liter model has such a unique design, and the classic 2-liter hot water bottle is a great piece to match. Plus, both covers look like they'd be such a pleasing texture—and I'm never one to turn down polka dots!
Vive Foot Rocker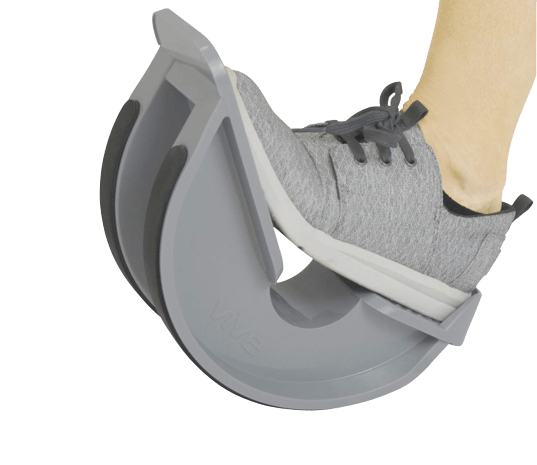 Plantar fasciitis is one of my least severe conditions but, when it flares up, it goes far beyond being just a nuisance. Between that and my chronically tight hamstrings, the Vive foot rocker looks like an incredible little product!
Medline Rollator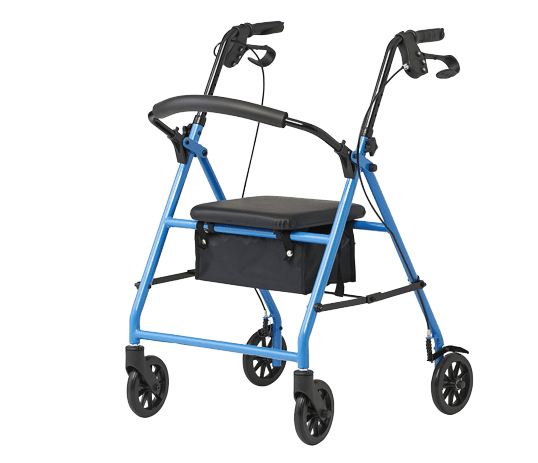 After a stint in the hospital last year, I ordered my grandfather a rollator much like this one to help him through recovery. As my own symptoms worsen, it's an investment I may be making myself sooner than I would have thought! This light blue color brings a smile to my face, which is always a bonus when it comes to medical equipment.
CalmiGo
---
I was super intrigued when I came across an ad for CalmiGo recently. The lavender scent is what first got my attention. Between the normal anxieties that come with neurodivergence to the horrible nightmares of PTSD, concentrating on this calming scent sounds absolutely lovely. The more that I researched, though, the peppermint option seemed just as appealing. It would be invigorating during a bout of fatigue and such a relief from migraine-adled nausea!
Vive Folding Cane
Full disclosure, my existing cane is quite similar to this one. But, much like the rollator mentioned above, I adore this teal color. Plus, it adds some accidental dysautonomia awareness–sounds like a great fit!
ReLeafpacks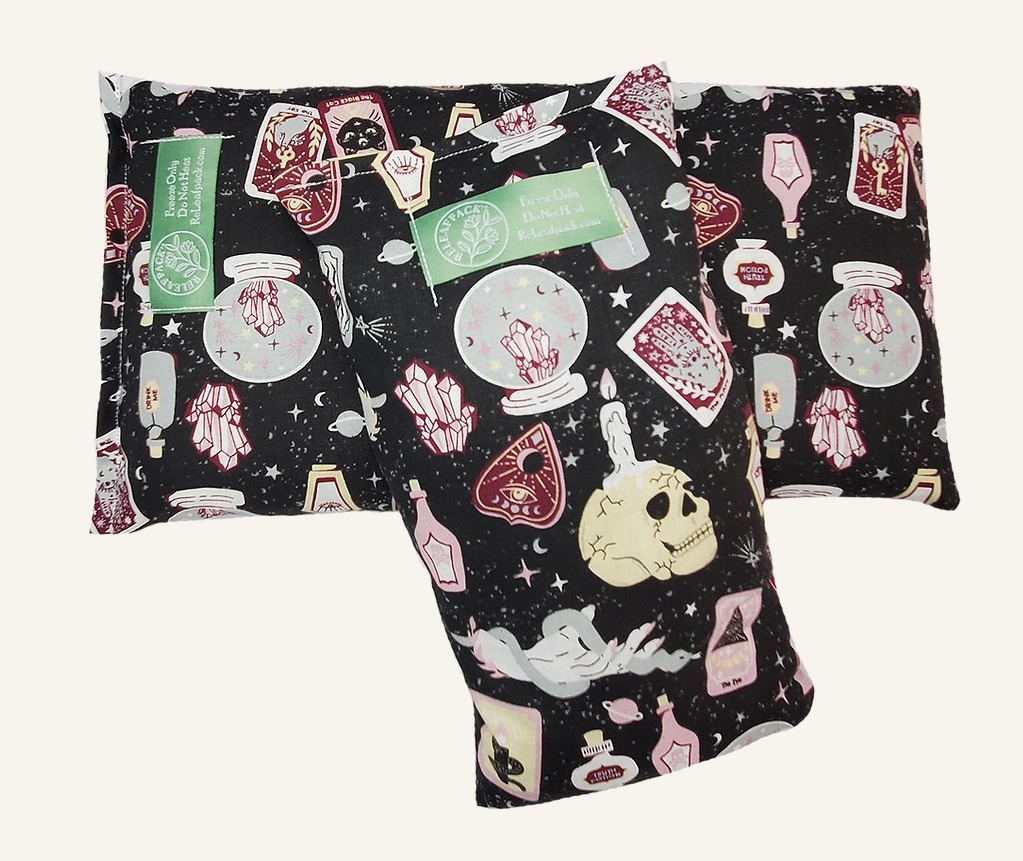 I first came across the ReLeafpack brand on Instagram and loved their creative designs. Their spooky seasonal collection is what solidified their spot on my wish list! My number one pick has since sold out but there are so many incredible designs. I'm loving their new winter holiday styles, too!
Microwave Knee Wraps
With my affinity for hot and cold therapies, I could hardly believe that these wraps were a new find when I discovered them only recently. This is such as incredible solution! My knees have been bad since childhood so I'd love to give these a try.
Allergy Amulet
If you have food allergies or sensitivities and haven't heard of Allergy Amulet yet, you're missing out! Their device is able to check your food to detect top allergens, with more on the way. A few of my personal food triggers aren't part of the program just yet (but on their roadmap!) but I'll definitely keep an eye on this for that update.
Migrastil migraine stick
Despite being an essential oil fan and seeing countless Buzzfeed recommendations for this headache relief roll-on, I've somehow yet to try this fan-favorite (and cruelty-free!) topical. One of these days I will, and might add it to my tool kit!
Neck Pressure Point Device
I already use and love my cervical traction device and recently added a neck massager to my arsenal. I've seen this cervical spine alignment tool recommended, though, and am interested in giving it a try! These solutions seem to work wonders for my migraines, headaches, and neck pain, so I'll gladly keep another option on hand.
Foot warmer heating pad
One of my various conditions comes with a particularly irksome symptom—my feet and toes get absolutely frigid! I've used my existing heating pad for the sole purpose of warming them many times. This foot warmer would be absolutely ideal, especially when in a full-fledged pain flare, too.
Sacroiliac Hip Belt
I recently saw this style of hip belt recommended for folks with Ehlers-Danlos Syndrome and, while that's not one of my diagnoses (current or suspected), I do have enough hypermobility in various joints that this looks to be helpful. Plus, it's said to help with sciatica, too!
Thera Cane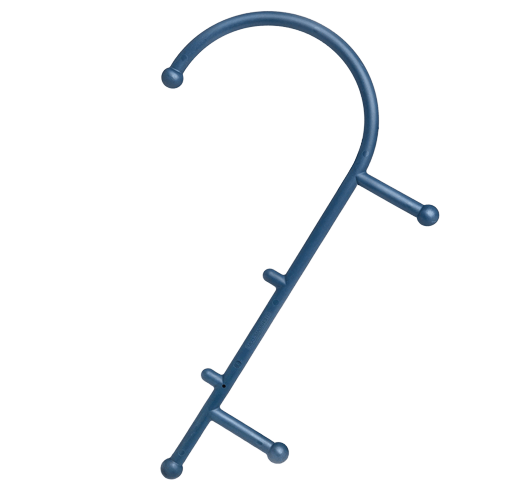 Honestly, it's shocking that I have yet to try the Thera Cane! Without fail, this massager is recommended on every listicle featuring products for chronic pain in its many forms. It may be in one of my roundups, too, if I end up loving it as much as others seem to someday!
Hip Ice Pack Wrap
Between sciatica and joint pain, I'm super interested in this hip ice pack wrap. Haven't we all dealt with trying to get a typical ice pack to sit *just right* for a particular pain?
So, these are a few of the items on my chronic illness wish list. Have you tried any of these products for spoonies, or are there other chronic illness products you'd recommend? Let me know in the comments or across social media @anideallifeblog!