Grace & Able Review: Arthritis Care Kit
If you read my recent chronic illness wish list post, you might remember me mentioning the stylish compression gloves offered by Grace & Able. The brand was so kind as to reach out and offer me one of their arthritis care kits in exchange for my honest review! I've used these items for a few weeks now and am excited to share my Grace & Able review.
*This post may include affiliate or referral links. At no extra cost to you (and with a special reader discount, in some cases!), I'll receive a small commission or other rewards to help support An Ideal Life. As an Amazon Associate I earn from qualifying purchases*
The information in this blog post is provided for educational and informational purposes only and should not be construed as medical advice. The content is not intended to be a substitute for professional medical advice, diagnosis, or treatment. Always seek the advice of your physician or other qualified healthcare provider with any questions you may have regarding a medical condition. Never disregard professional medical advice or delay seeking it because of something you have read online. The author of this post is not a licensed medical professional and does not assume any liability for any actions taken based on the information contained in this post.
First and foremost, some insight into the Grace & Able brand and their arthritis care kit, in particular:
About Grace & Able
The Grace & Able philosophy really starts with its founder, Sarah. An RA patient herself, Sarah faced a problem that all too many disabled individuals encounter: having to wear braces and supports and standing out because of them—and not in a particularly positive way. This is all too relatable—orthopedics, compression wear, and joint supports are hardly the most fashionable accessories in a spoonie's wardrobe. And, all too often, these standout pieces bring attention (and plenty of prying questions) well before anyone recognizes our stylish outfit or bubbly personality.
Sarah recognised this frustration and joined together with Trevor Petrie, a certified hand therapist, to design functional, fashionable compression gloves and more.
The Arthritis Care Kit
The incredible inventory at Grace & Able all stems from these enthusiastic origins, including their arthritis care kits. These bundles prioritise both healthcare and self-care, supporting both your body and mind as you use it. Each kit includes a pair of their cotton compression gloves, a tube of magnesium soaking salts, and two linen flaxseed hand packs. And an added bonus? It even comes with stickers!
You have a few choices to make when you order your kit. Compression gloves are available in three sizes (small, medium, and large) and five colours (ballet pink, classic black, heather grey, marine blue, and plum purple). Then your soaking salts can be one of four fragrance options: eucalyptus, lavender, rose, or unscented.
It's also worth noting that this incredible kit comes in eco-friendly packaging—even their tissue paper is recyclable!
My Grace & Able Review
I was absolutely thrilled when Grace & Able first reached out about crossing this item off my wish list. I'd first come across their fashion-forward compression gloves when I began following Cheryl of Arthritis Life. At the time, my diagnosis was undifferentiated arthritis, and RA seemed the most likely form. I've since gone through further testing and started treatment for fibromyalgia, but I've still found Cheryl's arthritis life hacks to be invaluable. The Jiffy Twist is the next item on my wish list that's inspired by her product recommendations!
I like my standard compression gloves from Amazon well enough but Grace & Able's commitment to making these chronic illness essentials more fashionable is just so inspiring. The ballet pink gloves, in particular, immediately caught my eye. One of my favourite childhood memories is a ballet pink polish my grandmother used on our nails—these were such a lovely callback to those memories.
I mentioned these as my top choice of compression glove (with plum purple & marine blue as my next picks…spoiler alert: I'll definitely need to order these colours down the line) and Grace & Able sent just that. I also selected lavender for my scent since a bit of relaxation. is almost always a necessary addition to my everyday life.
When I picked up this exciting package from my PO box, I loved the packaging itself. It really is such a special delivery!
Then, of course, I opened the package…and it became so much more exciting! The contents of the arthritis care kit were even better in person than the description on their website could relay.
grace & able Compression gloves Review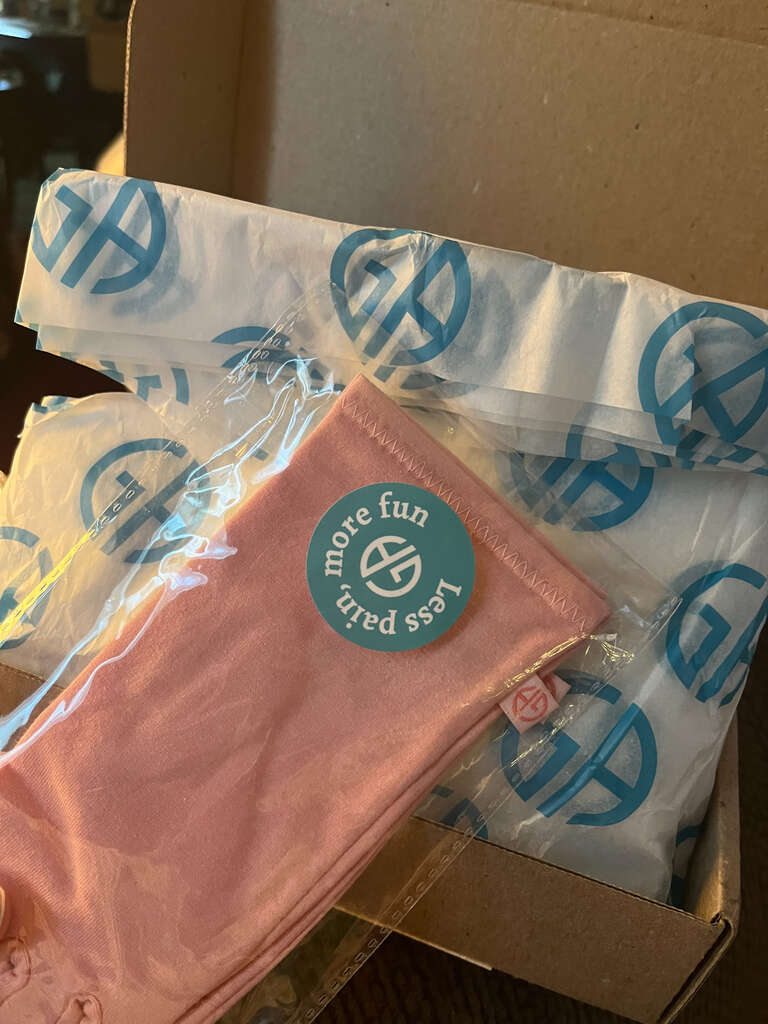 Firstly, these gloves are gosh-darn beautiful. I love the subtle detail of the GA logo tags! It's a simple way to ensure you're grabbing the right glove at a glance, and makes a great addition to the gloves themselves.
With the gloves on, though, they become even better. The ballet pink colour is just as gorgeous as I expected!
I can hardly wait to pair these gloves with some stylish outfits—I have a few particular pieces in mind already. So far, I've been wearing them around the house more casually, and even to bed a few times. Compression gloves are an absolute must at bedtime, and these quickly became my new favourites.
Grace & Able Soaking Salts Review
I put off trying these salts for a while, waiting for just the right moment. That special occasion came when I promised myself a home manicure/pedicure. With aching hands and ankles, the lavender salts were the perfect way to relax and relieve the discomfort.
I think my favourite part, though, was the aesthetic these salts had to offer. I'll spare you the image of my feet soaking in the warm water, but know that the combination of the sprigs of lavender and the salt-infused water is almost as soothing to look at as it is to use. In short? I love these soaking salts and can hardly wait for the next "spa session!"
Grace and Able heat packs review
Finally, we have the third main part of the Grace & Able arthritis care kit: a pair of heat packs. Each 4×5 pack is made of organic linen and filled with flaxseed sourced locally by the brand. Simply microwave for 20 seconds and enjoy the heat therapy! Alternatively, you can keep them in the freezer for some cooling relief.
These are intended for your hands, much like the other parts of the kit. That being said, they're versatile—I recently used them on my eyes/temples during a particularly wicked migraine and the relief was wonderful!
All this being said, adore this Grace & Able arthritis care kit. I can't thank them enough for the gifted product, or for the chance to share this lovely product with you all! They've been a pleasure to work with and I'm certainly planning to add more of their items to my collection over time. I mean, I need gloves in every colour, right?
If you have fibromyalgia like myself, another form of arthritis, or some other type of chronic pain, I truly cannot recommend the arthritis care kit enough. At the very least, you're sure to find relief from one of the included products (and a smile at the included stickers, of course). More likely, though, you'll find that the kit as a whole was exactly what your home treatment plan needed.