What Is the Purpose of a Passion Planner?
The purpose of a Passion Planner is to provide a system for organizing and prioritizing goals and tasks, as well as promoting reflection and personal growth. It is designed to help users define their long-term goals, break them down into actionable steps, and track progress towards achieving them. Additionally, the planner includes space for gratitude journaling, habit tracking, and weekly and monthly reflections.
*This post may include affiliate or referral links. At no extra cost to you (and with a special reader discount, in some cases!), I'll receive a small commission or other rewards to help support An Ideal Life. As an Amazon Associate I earn from qualifying purchases*
The information in this blog post is provided for educational and informational purposes only and should not be construed as medical advice. The content is not intended to be a substitute for professional medical advice, diagnosis, or treatment. Always seek the advice of your physician or other qualified healthcare provider with any questions you may have regarding a medical condition. Never disregard professional medical advice or delay seeking it because of something you have read online. The author of this post is not a licensed medical professional and does not assume any liability for any actions taken based on the information contained in this post.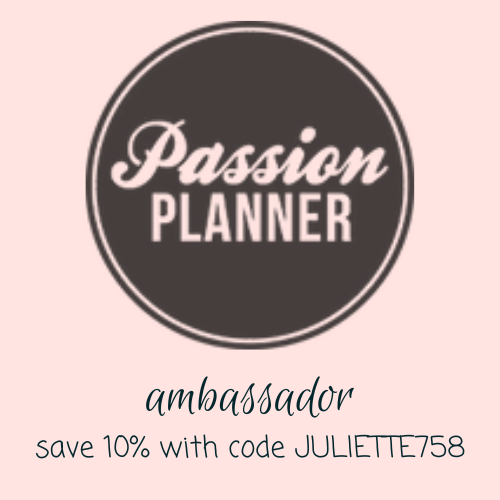 Passion Planner is a popular paper-based planner that combines elements of productivity and personal development. It was created by Angelia Trinidad, who developed the planner to help herself manage her own goals and busy schedule. Since its launch, the Passion Planner has gained a loyal following and is known for its unique layout and focus on personal growth.
The planner includes yearly, monthly, and weekly pages, as well as space for goal-setting, to-do lists, and notes. The layout is designed to help users prioritize their tasks and focus on what's most important. The planner also encourages users to reflect on their progress and growth and includes prompts for gratitude journaling and self-reflection.
In addition to the paper planner, there is also a digital version of the Passion Planner, which offers similar features and functionality. The digital version can be accessed through an app like GoodNotes on a computer or mobile device, and includes features like automatic syncing and the ability to set reminders.
Overall, the purpose of a Passion Planner is to provide a comprehensive system for goal-setting, productivity, and personal growth, all in one place.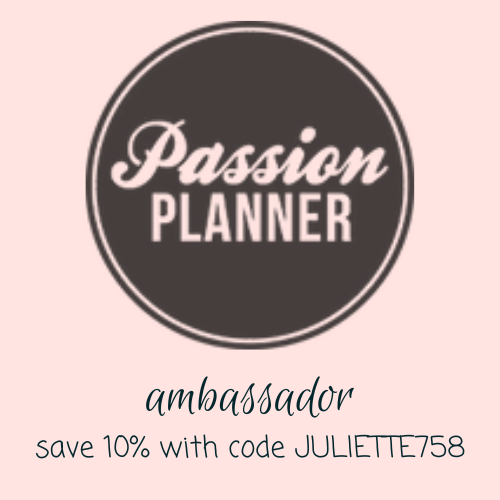 Customizing Your Passion Planner
There are a number of ways that you can customize your Passion Planner to better fit your needs and preferences. Here are a few options:
Choose your cover.
Passion Planner offers a variety of cover designs to choose from, so you can pick one that resonates with you.
Add stickers and washi tape.
Many Passion Planner users like to use stickers and washi tape to decorate their pages and make them more visually appealing. Passion Planner sells a variety of awesome sticker books (both digital and paper), and you can always use others you have on hand.
Create your own sections.
While the Passion Planner comes with pre-designed sections for goals, tasks, and notes, you can also create your own sections based on your needs. For example, you might want to add a section for meal planning, exercise tracking, or habit-building. You can also download some of their PDF inserts and add essentials like financial tracking to your planner setup.
Use different colored pens and markers.
Using different colored pens and markers can help you to better organize your tasks and notes. For example, you might use one color for work-related tasks, another for personal tasks, and another for important deadlines. No surprise, Passion Planner has us covered here too! They offer two different set of highlighters and both soft black and blue erasable pens, so you have lots of opportunity for color-coding and personalization.
Personalize the monthly reflections.
Each monthly reflection page in the Passion Planner includes a set of prompts to help you reflect on your progress and growth. You can customize these prompts to better fit your needs, or add your own prompts to make the reflection process more meaningful for you.
These are just a few examples of the ways that you can customize your Passion Planner. Ultimately, the goal is to make the planner work for you, so feel free to experiment and make it your own.
Use Your Passion Planner More Effectively
Here are some tips on how to use your Passion Planner more effectively:
Set achievable goals.
When setting goals, it's important to make sure they are specific, measurable, achievable, relevant, and time-bound (SMART). This will help you break them down into smaller, actionable steps, making it easier to work towards them.
Be sure to read our blog post about goal-setting with chronic illness!
Prioritize your tasks.
Each day, choose the tasks that are most important to accomplish and make sure they are at the top of your to-do list. This will help you focus on what is most important and avoid feeling overwhelmed.
Use different colors and symbols.
Using different colors and symbols in your Passion Planner can help you quickly identify different types of tasks and goals. For example, you might use a star symbol for important tasks, a checkmark for completed tasks, and a circle for tasks that need to be rescheduled, similarly to the classic bullet journal system (by the way–you can also invest in a blank Passion Journal to coordinate your bujo and planner!). If you'd like a exterior system as well, there are multi-colored tabs available on the Passion Planner website, too.
Make time for self-care.
A Passion Planner includes sections for tracking self-care activities such as exercise, sleep, and gratitude. They even have a full sticker book dedicated to self-care! Make sure to prioritize these activities and give yourself permission to take a break when you need it.
Look to our post on taking time for self-care with chronic illness for some insight!
Be consistent.
To get the most out of your Passion Planner, it's important to use it consistently. Make it a habit to review your planner at the same time every day or week, and stick to your schedule as much as possible. At the same time, though, know that Passion Planner is intentionally designed with flexibility in mind–their undated planner options are ideal for those of us with ADHD or who may be less consistent as a rule.
These are just a few tips for using your Passion Planner more effectively. Ultimately, the key is to find a system that works for you and to stick with it consistently.