How I'm Using My Bullet Journal Differently in 2021
If you followed my previous blog, then you know that my bullet journal is a much-needed extension of my brain. I've gone through countless spreads, layouts, and page ideas since I started bullet journalling four years ago. But, this year, I decided to do my bullet journal differently.
Wondering about what else I'm doing differently in 2021? Spend some time with my 2021 goals, words for the year, and 101 in 1,001 list!
My Bullet Journal Supplies
Before getting into the system I'm using this year, I want to give a shoutout to some of my favourite bullet journal supplies!
The most significant difference in my 2021 bullet journal is my categorisation process. Over the past several months, I've been structuring my daily, weekly, monthly, and more extended plans based on a categorised five-year plan. For my bullet journal this year, I've decided to copy those same categories. Before I took to creating bullet journal spreads, I took the time to count out an equal number of pages for each section. There are even a few extras at the end and room for my Level 10 Life spread at the front.
For each category, I chose a mildliner (I recently completed my 25-colour set with individual markers!) and marked the index. Then, I colour-coded the edges of each section to coordinate. I'm so pleased with how beautifully it turned out!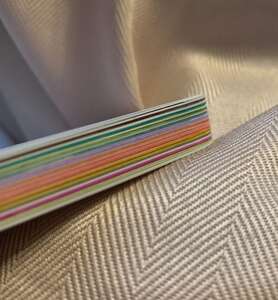 I won't go into an in-depth, page-by-page look at my 2021 bullet journal. But a few examples are definitely in order.
A look inside:
My blogging section includes pages for my passwords, affiliate links, schedule. Plus, I've included pages for tracking stats on the site and across social media. With the shades of pink strewn across the site, it should come as no surprise that this section is marked by a pink (technically, coral!) mildliner!
[one_half_last]
[/one_half_last]
Similarly, my freelancing section tracks invoices and remittance payments, pitches, and my wish list of dream publications. This section is labelled in red to match my calendar. I've long since marked deadlines in red to make sure they stand out!
[one_half]
[/one_half]
[one_half_last]
[/one_half_last]
Of course, my 2021 bullet journal isn't limited to work-related spreads. I have entire sections for health, recreation, and spirituality, to name a few. This means I've got spreads for the books I read, TV shows I watch, workouts I complete, events I'll celebrate, and more! These sections are brown, orange (vermillion), and gold, respectively.
[one_half]
[/one_half]
[one_half_last]
[/one_half_last]
[one_half]
[/one_half]
[one_half_last]
[/one_half_last]
How do you use your bullet journal differently than the typical set-up? Share your most unique ideas in the comments!