Vegan Treats Review (A Vegan Bakery in Bethlehem, PA)
A few months ago, I found out that there's a vegan bakery not too incredibly far from my parents' house. In fact, it's just a few blocks from a spot my mom visits fairly regularly for work (pre-COVID)! Vegan Treats is a small shop in Bethlehem, PA, and easy to miss if you're not looking for it. But it's definitely worth the effort if you're planning a trip to the area.
The Excitement of a Vegan Bakery
There is something undeniably special about vegan bakeries. They offer an escape from the mundane, everyday treats that are typically laden with animal products–it's not often that a vegan can walk through a door and find a delicious treat they can actually eat, especially if they don't live in a big city like New York. Instead, vegan bakeries provide a haven for compassionate eaters who want to enjoy something delicious and indulgent without harming any living beings.
I've had the opportunity to try a few different vegan treats from Vegan Treats, but my favourite is definitely the donuts.  I missed eating donuts that I haven't haphazardly fried up with some accidentally vegan dough.  I've got many fond memories of visiting Dunkin' with my family growing up and I've longed for that sort of nostalgic goodie.
*This post may include affiliate or referral links. At no extra cost to you (and with a special reader discount, in some cases!), I'll receive a small commission or other rewards to help support An Ideal Life. As an Amazon Associate, I earn from qualifying purchases*
The information in this blog post is provided for educational and informational purposes only and should not be construed as medical advice. The content is not intended to be a substitute for professional medical advice, diagnosis, or treatment. Always seek the advice of your physician or other qualified healthcare provider with any questions you may have regarding a medical condition. Never disregard professional medical advice or delay seeking it because of something you have read online. The author of this post is not a licensed medical professional and does not assume any liability for any actions taken based on the information contained in this post.
My First Trip to Vegan Treats
The first time we stepped inside, I was blown away. I've been fortunate enough to visit a few all-vegan spots now, but this was the first time that there was this much variety front-and-center, and not just on a menu. I've been to many regular bakeries and for the first time, I didn't have to examine everything hoping to find the one (typically disappointing) vegan option.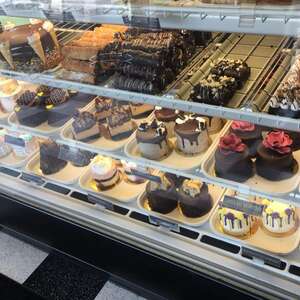 I'd been particularly reminiscing over Boston cream donuts in the weeks prior to that first visit. So naturally, I had to try their version. It wasn't exactly like the version I remembered, but it was absolutely delicious nevertheless and satisfied that craving perfectly.
I got to try a cannoli, too, another treat that I'd been dying to try veganized. Neither the cannoli itself nor the powder sugar it was coated in disappointed!
My mom and sister came along on this trip and each got a goodie of their own: a filled pumpkin donut and a personal chocolate cake!
It was right around Halloween, too, so the festive, spooky decorations were a great bonus!
I got to finish off Mom's donut (she says they're too rich for her, even on a cheat day–I suspect she might just know they make me happy) and try a few bites of Rachel's cake. I'm happy to report that they were both absolutely delicious!
Now, these are rather rich, and very sweet, especially if you don't indulge in these sorts of goodies very often. Personally, I don't find either of these qualities to be a detriment–it just helps me to savour them even more!
Return trips to Vegan Treats
As I said, the bakery isn't far from one of Mom's branches, so I've had the chance to try a few more goodies. Mom brought home an assortment of donuts on another trip!
She picked out the sprinkled donut especially for me as I'd said a few times that that was the next one I needed to try—I missed the rainbow sprinkles of childhood donuts! She ate the coconut one herself (I'm not much of a coconut fan myself), but I got to try the chocolate, too (and a few bites of the pumpkin again–she'd liked it so much the first time that she got it again!). As expected, all three were absolutely delicious.
Most recently, she surprised me with a whole spread of vegan treats. Not only did she bring another box of donuts, but she brought this adorable Easter-y cake, too! His wing got a bit knocked off in travel, but he was delicious (and adorable) nevertheless. He was gluten-free, too, which made it even better!
The donuts included another sprinkled and chocolate, a jelly-filled one, and s'mores. For me, the highlight was hands-down the jelly! I didn't realize just how much I'd missed jelly donuts, nor just how long it had been. The jelly was smoother than those I remember but so good. The raspberry and powdered sugar combination was just as wonderful as I remembered!
Another childhood favorite I'd missed since going vegan? A classic chocolate cream cheese cupcake! Also known as black-bottom cupcakes or chocolate cheesecake-filled cupcakes, these are one of the least vegan-friendly treats by default. And yet, once again, Vegan Treats saves the day…
More recently, I got a new specialist…who happens to affiliate with a hospital near this Pennsylvania vegan bakery! I spent some time planning in advance for some special vegan treats!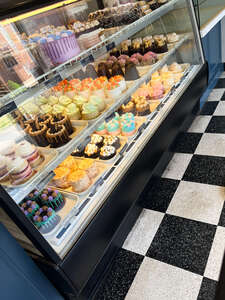 Unfortunately, they didn't have any donuts the day I went after an appointment. They're definitely my favorite vegan treat, so I was so disappointed! But still, there were lots of tasty desserts to choose from. This time, I picked up a tiramisu, blueberry cheesecake, and some cakes: confetti and cookie dough cakes, to be exact!
I can't wait to try even more of these delicious Vegan Treats! They have some gorgeous soft-serve that's high on my list, plus a "chicken" and waffles concoction that looks absolutely mouth-watering.
If nothing else, can we talk about these adorable chairs? Vegan Treats has the best aesthetic.
Of course, I'll keep you updated as I try more goodies from Vegan Treats! If you're ever in the Bethlehem, PA area, be sure to stop by and check it out for yourself. And leave a comment sharing your new favorite vegan treats!