Chronic Illness Holiday Gift Guide
The hustle and bustle of the holidays can be stressful and tiring for anyone, but especially those living of us with chronic illnesses. Naturally, this calls for a chronic illness holiday gift guide! Whether you're gifting yourself a little treat to help make it through the holiday season or you're forwarding this post to your loved ones as a subtle hint, here are some ideas for spoonie-friendly gifts.
*This post may include affiliate or referral links. At no extra cost to you (and with a special reader discount, in some cases!), I'll receive a small commission or other rewards to help support An Ideal Life. As an Amazon Associate, I earn from qualifying purchases*
The information in this blog post is provided for educational and informational purposes only and should not be construed as medical advice. The content is not intended to be a substitute for professional medical advice, diagnosis, or treatment. Always seek the advice of your physician or other qualified healthcare provider with any questions you may have regarding a medical condition. Never disregard professional medical advice or delay seeking it because of something you have read online. The author of this post is not a licensed medical professional and does not assume any liability for any actions taken based on the information contained in this post.
For Relaxation & Rest
The holiday season tends to overstimulate our senses, especially for those of us whose physical conditions overlap with neurodivergence. For chronically ill friends who already deal with fatigue, pain, and other symptoms, gifts that promote relaxation and rest are always appreciated.
Weighted Blanket
I'd be lost without my weighted blanket at times! The gentle pressure of a weighted blanket can ease anxiety and restlessness by stimulating the production of serotonin and melatonin. This is an ideal gift for those who need help calming both body and mind, particularly at bedtime. They can also help ease restless legs!
Luxurious Pajamas
After the chaos that so often surrounds this time of year, what better addition to a chronic illness holiday gift guide than comfy pajamas and lounge-wear? Prioritize soft, natural fabrics and designs that suit their style. I adore Victoria Secret's modal pajama sets (I quite literally wore out my last two sets!) and I've been eyeing up their luxurious satin short sets, too. My other go-to pajammies are from Old Navy's Sunday Sleep line. Pair one of the slub knit tops with some dolphin-hem shorts are you have a winning combination!
Bath Bombs
For those whose symptoms are exacerbated by the winter cold (October slide, anyone?), a warm soak can be vital self-care. Elevate the experience with indulgent bath bombs in relaxing scents like lavender and eucalyptus. Miss A has a line of bath bombs in some fabulous scents, as well as bubble bars and shower bombs.
Cozy Slippers
Anyone else have more slippers than actual shoes at this points? Cushion tired feet whether bedridden or up and about—consider slippers with arch support, memory foam, and warm linings to comfort aches and pains. Old Navy's moccasin-style slippers are one of my go-to types, and Miss A saves the day yet again with their budget-friendly slipper styles (which also support charitable causes!).
For Creativity & Connection
Holidays are inherently social affairs, even for spoonies. Some of these additions to our chronic illness holiday gift guide nourish creativity and human connection, helping to make this time of year more enjoyable and meaningful.
Adult Coloring Books and Pencils
Tap into the latest trend of mindful artistry with adult coloring books and high-quality colored pencils. The meditative process stimulates the brain and soothes anxiety—and comes with a slew of benefits for chronic pain relief, too!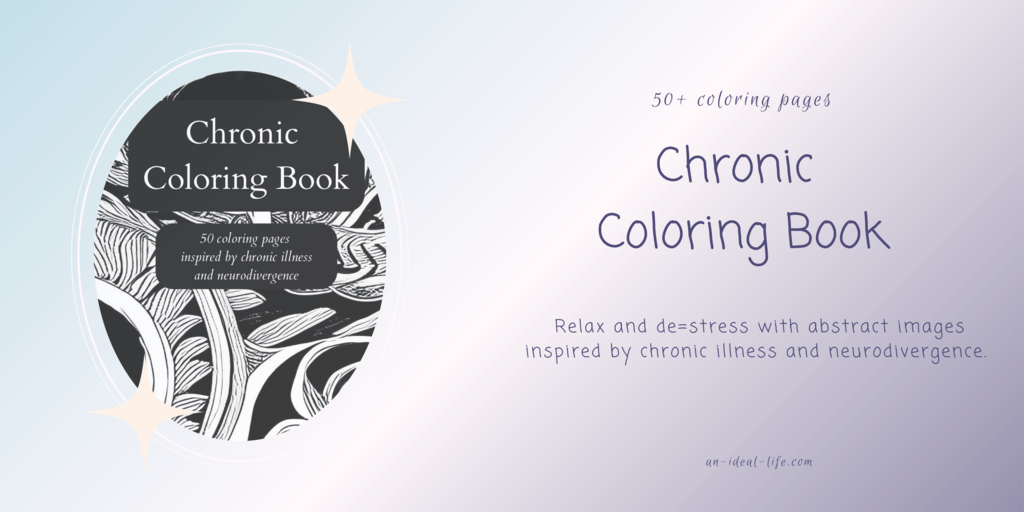 Journal or Notebook & Pen
Writing can be therapeutic, introspective, and essential for processing emotions—my latest poetry collection, Psychoskeletal Rhythms, actually dives into the intersection of chronic illness and writing! An elegant journal helps chronically ill loved ones record thoughts, symptoms, and milestones. Some of my favorites (and my current freeform journal) come from Peter Pauper Press. For a slightly more structured approach, be sure to check out our 30-day chronic illness guided journal!
Wireless Headphones
Enjoy soothing music, uplifting podcasts, or escapist audiobooks without disruptive wires. Cater to specific interests like meditation tracks or comedy stations. I tend to switch between my Beats, Shokz, and Airpods for whatever I'm listening to at the moment, but I have my eye on the Airpods Max and Bose QuietComfort Noise Canceling Headphones (can we talk about that Moonstone Blue color?).
Photo Albums
They say a picture is worth a thousand words and I'd say that's especially true when it comes to those that capture special memories. I'm a sucker for old-school physical albums or even prints (did you know you can get copies of my published photographs to display at home?) but digital frames are easy to update from afar so you can continually send new images.
For Practical Assistance
Some of the most appreciated gifts offer practical help that makes day-to-day life a little bit easier. Opt for items that simplify tasks and brighten mundane routines!
Meal Delivery Service
Take the stress out of cooking nutritious meals with a subscription to a meal delivery service! I've had a great experience with Hello Fresh so far. There are even some services specializing in dietary needs, from gluten-free to anti-inflammatory diets.
Smart Watch
Wellness-focused smart watches can discreetly monitor heart rate, sleep patterns, movement, and other meaningful metrics. This can help identify triggers and find relief. Admittedly, some patients find themselves obsessing over these metrics. In my experience, though, it's more helpful to know they're being tracked—not feel the need to constantly check my heart rate, for instance, as a result.
Compression Socks
Boost circulation in legs and feet and reduce pain for those dealing with dysautonomia, fatigue, and other chronic symptoms. One of my unidentified health issues leads to freezing cold toes and one of the only solutions is a handy pair of compression socks! I absolutely adore VIM & VIGR, and not just because they were kind enough to gift me my first pair. They even have an adorable holiday line full of festive prints you can choose from!
Daily Planner
Get organized with a planner designed specifically for those managing chronic illness and neurodivergence. Prioritize self-care routines alongside health appointments. Check out our picks of the best planners for spoonies!
For Overall Wellbeing
Some of the most impactful choices on our chronic illness holiday gift guide might not cost a lot, but they pack a heavy punch, so to speak.
Gift Certificate for Massage or Acupuncture
Invest in proven modalities tailored to chronic pain, inflammation, and fatigue. A restorative massage or acupuncture session promotes whole-body wellness. This is an especially meaningful gift for the spoonie in your life who thinks they'd benefit from a service like professional massage but can't bring themselves to actually do it for themselves!
Yoga Bolster
This versatile prop enhances comfort during restorative yoga, meditation, and other mind-body practices. Yoga bolsters provide much-needed support and alignment—so much so that they're even on my accessibility aids wish list, as well as this chronic illness holiday gift guide!
Essential Oil Diffuser
Harness the power of aromatherapy with an essential oil diffuser. Customize soothing scent blends using natural extracts that ease anxiety, congestion, nausea, and more. Just be sure to be aware of (and educate the recipient on!) the intricacies of using essential oils safely around pets!
Teas and Herbs
Curate a personalized collection of medicinal teas and herbs to sip throughout the day. Choose blends that reduce inflammation, stimulate digestion, and address other chronic symptoms. I adore Yogi teas, which may be available at your favorite local grocery store (you might even be able to use Instacart with your local Target!). Or, check out our favorite places to order tea online!
This holiday season, give the gift of comfort and care to the chronically ill and neurodivergent loved ones in your life. Support their health goals while honoring their challenges and needs by choosing items from our chronic illness holiday gift guide!