For a long time, I've been exploring my spiritual beliefs and practices. Today, they're still developing and I'm still learning. But, in the process of figuring things out, I've fallen pretty solidly into the category of "witch."  Most recently, this manifested as a very witchy Etsy haul!
*This post may include affiliate or referral links. At no extra cost to you (and with a special reader discount, in some cases!), I'll receive a small commission or other rewards to help support An Ideal Life. As an Amazon Associate I earn from qualifying purchases*
Crystals, by far, are the witchy supplies I've been collecting the longest. I can remember an elementary school trip to a local mine, where I found an amethyst-coloured stone embossed with the image of a silver cat. I still have a box filled with rocks I picked up over years of adventuring with my grandparents. My family's favourite local amusement park has a mining museum, where I'd always run my fingers through their bin of tumbled stones.
Later, I started collecting crystals that were more purposefully metaphysical, and adding in other tools, like herbs. Back in Gettysburg, I'd turn to The Crystal Wand at their previous location. In Bath, Arcania was my go-to. But today, in middle-of-nowhere, PA, my options are limited. That's where Etsy comes in and saves the day!
I'm a long-time browser of Etsy for witchcraft supplies and more. But this was the first time I really dived into Etsy shops with the sole intention of purchasing some magickal supplies. I'm happy to say it was immensely successful! I've grown my collection by leaps and bounds with new crystals, herbs, candles, jewellery, and other tools to enhance my spiritual practice.
BlueWynter
I've actually made a few separate purchases from BlueWynter over the past few months! Their jewellery, crystals, and other pieces are so beautiful, and their customer service is unparalleled—I've received a few lovely complimentary pieces in addition to my orders and each fit my intentions perfectly.
These are just a few of the pieces I selected, but be sure to check out the full BlueWynter inventory—there's so much to enjoy!
It's also worth noting that BlueWynter has frequent sales, so you can stock up on all the magickal jewellery and other items on your wish list!
The Serene witch
I came across The Serene Witch while searching for magickal items that were specific to Hekate, the deity I've been working with the longest (at least in terms of non-Christian figures).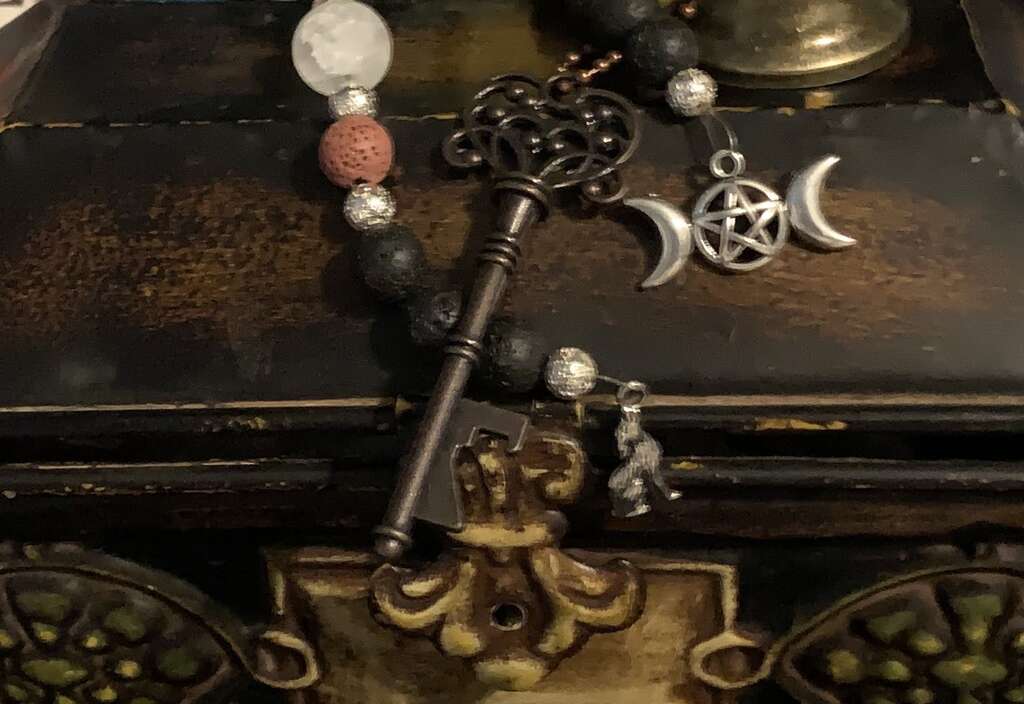 I selected a pair of prayer beads for myself, but they've also got keychains and other lovely pieces
Mysticalfaerieco
I first came across MysticalFaerieCo while searching for an altar bell. I fell in love with this vintage bronze bell and skeleton key, particularly with the key's associations with Hekate.
Moonstone and LAzuli
Moonstone and Lazuli was actually one of the first shops I came across, but some technical issues delayed my order a bit. I was thrilled to pick up some lovely items once those were sorted, including a blue goldstone, selenite stick, amazonite, tiger's eye, indigenous-owned juniper-pine-spruce-sage bundle, and some mystery items.
WitheringEye
WitheringEye is another shop I've found myself returning to for repeat purchases. One of my goals with these Etsy orders was to find an array of new-to-me pieces, and "witch kits" or boxes were an easy way to do just that. Their traveling altars and spell kits were perfect!
Each kit is prepared in a gorgeous thrifted box. It's clear that so much care and attention goes into each order. Even with some shipping issues (UPS somehow overlooked the various "fragile"markings and damage several items), Kendall was responsive and attentive. I know I'll be returning to WitheringEye for more magickal boxes!
Because each set is uniquely assembled, my exact items are no longer available. But WitheringEye has a wide array of beautiful witch kits in stock! I selected a Green Witch Kit, Hekate Offering Kit, Altar Kit, Traveling Altar, Money/Prosperity Spell Jar Kit, and Dream Work Kit. I've added some gorgeous vintage boxes, crystals, herbs, candles, and other beautiful pieces to my collection through these kits!
Santa Muerte Rosaries
I found myself pulled to Santa Muerte only recently but that call was strong. I took to Etsy in search of some Santa Muerte-specific pieces and Santa Muerte Rosaries came through!
For my initial order, I chose a white acrylic & howlite rosary and a Santa Muerte statuette/keychain. They came with some wonderful insights into Santísima and, while we're still getting to know each other, I think she appreciates them, too. I'm so looking forward to incorporating these in my practice!
Schmerbals Herbals
I mentioned Schmerbals Herbals in my post on where to find the best teas online, but found them in my spiritual supplies search. I'm excited to try my hand at crafting some custom tea blends in addition to using these for spellwork!
For my initial order, I picked up some yerba mate, lavender, blue vervain, valerian root, eucalyptus, dandelion root, elderberry, ashwagandha, hibiscus, raspberry leaf, feverfew, peppermint, white willow bark, and marshmallow root (powder and organic).
Grey Kindred Spirits
Grey Kindred Spirits isn't technically a part of this witchy Etsy haul, but deserve a shoutout nevertheless. In addition to spells and rituals, Lask and Spencer perform a variety of pro bono and discounted spellwork, including LGBTQ+ support, protection of abused partners and families, among others.
Consider commissioning a reading or ritual from Grey Kindred Spirits to help support their work!
Vampire obsessed shop
One more bonus addition is called for here—the Vampire Obsessed Shop by HairSheBowsDesign. While not a shop with a spiritual focus, I know I can't be the only witch who still loves the Cullens and Salvatore brothers. You'll find a variety of vampiric pieces, including Bella's moonstone ring and Elena's locket! The latter even comes with a satchet of vervain to stock your locket—and protect yourself from compulsion, of course.
I'll undoubtedly return to these shops and discover others over time, but I'm so happy with my initial witchy Etsy haul! These crystals, herbs, and other magickal supplies have already enhanced my spiritual practice and I can hardly wait to embrace them further.