The Ultimate Guide to Finding Chronic Illness-Friendly Lingerie
Living with chronic medical conditions comes with unique lingerie requirements for optimal comfort and confidence. The right undergarments provide physical ease and emotional uplift through symptoms and challenges. This comprehensive guide dives deep into how Aerie's size-inclusive, ultra-soft intimates can help you discover the perfect chronic illness-friendly lingerie for your body and lifestyle.
*This post may include affiliate or referral links. At no extra cost to you (and with a special reader discount, in some cases!), I'll receive a small commission or other rewards to help support An Ideal Life. As an Amazon Associate, I earn from qualifying purchases*
The information in this blog post is provided for educational and informational purposes only and should not be construed as medical advice. The content is not intended to be a substitute for professional medical advice, diagnosis, or treatment. Always seek the advice of your physician or other qualified healthcare provider with any questions you may have regarding a medical condition. Never disregard professional medical advice or delay seeking it because of something you have read online. The author of this post is not a licensed medical professional and does not assume any liability for any actions taken based on the information contained in this post.
Pamper Yourself in Aerie's Cloud-Soft Fabrics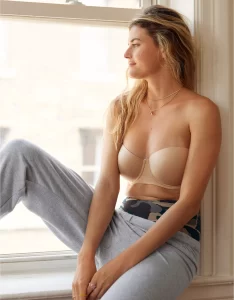 With chronic illness, supremely soft and breathable fabrics are key for preventing skin irritation, rashes, and discomfort. Aerie utilizes featherlight fabrics like their famous Real Sunnie collection that feel silky and barely there against extra sensitive skin (and is good for the planet, too!). The lightweight stretch conforms to the body's natural contours without binding. With their chronic illness-friendly lingerie, you can treat yourself to the luxury of clouds against your skin!
Indulge in Aerie's Heavenly Seamless Offerings
When searching for chronic illness-friendly lingerie, seamless construction is ideal for avoiding painful rubbing and pinching from irritating seams, tags, and stitching. Those with generalized chronic pain disorders, localized nerve sensitivities, or skin conditions like eczema benefit greatly from Aerie's extensive selection of seamless bralettes, panties, and more. Choices like the Superchill Seamless Skinny Bralette and Seamless Thong provide complete seam-free luxury. Those prone to sensory overstimulation can enjoy the calming comfort of silky softness inside and out. Kiss chafing goodbye!
Be sure to browse our archive for more essentials for those with chronic pain or sensory sensitivities.
Size Inclusivity for Your Perfect Personalized Fit
An extensive size range allows you to find your ideal chronic illness-friendly lingerie for tailored support and body confidence. Aerie offers an inclusive spectrum of sizes, including bras from 30A to 42DD, with G & H cups in certain sizes, bralettes from XXS to XXL, and undies from XXS to XXL. Catering to petite frames up through fuller busts and plus sizes, their diverse offerings make size inclusivity a priority. Use their online fit guide, size chart, and customer service to discover your best lingerie matches personalized to your unique proportions and shape. An individualized fit provides both physical and emotional ease when it comes to chronic illness-friendly lingerie.
Flaunt Your Unique Style with Aerie's Vast Offerings
Aerie delivers a kaleidoscope array of colors, prints, textures, and details so you can find chronic illness-friendly lingerie that aligns with your personal style. Choose from cozy cotton blends, sensual lace accents, subtle florals, and vivid solids that make you feel confident, playful, and authentically you. Intimates that spark joy can uplift your mood. Showcase your own flair through their extensive collections designed for self-expression. Find perfect colors and silhouettes to complement your signature look.
Looking for more ways to show off your unique fashion sense? Check out our guide to finding your style with Poshmark, and visit our friends at Spoonie Style Shop!
Support Aerie's Values of Inclusivity and Body Positivity
Aerie empowers body acceptance and self-love through their #AerieReal campaign featuring diverse models across ages, ethnicities, and abilities. They refuse to retouch images so customers see real beauty in its many forms. By partnering with organizations supporting women's health and disabilities, Aerie works to improve access and inclusion through ethical fashion. Choosing Aerie allows you to use your dollars to support social justice.
Additional Perks for Living Comfortably with Aerie
Aerie's bralettes have minimal compression, ideal when you need relief from constriction and tightness that exacerbate symptoms. Their cotton-lined underwear helps you feel fresh and promotes healthy skin bacteria. Convenient details like wide bands, stretch lace, and front-close bras simplify dressing when dexterity is limited. The Offline collection (my personal favorite!) offers cozy lounge and sleep styles perfect for recovery days. Discover comfort in every detail.
Adaptive Styles Make Dressing Easy
Aerie's adaptive intimates collection allows for easy dressing through innovative features like magnetic closures on bras and adjustable fastening on underwear. Their accessible styles accommodate limited mobility, nerve damage, and dexterity issues with practical and fashionable designs. Disabled people will appreciate the effortless dressing their adaptive line enables!
Focus on Natural Fibers for Sensitive Skin
For those prone to skin sensitivities, allergies, and conditions like eczema, Aerie incorporates natural fiber fabrics to help prevent irritation. Choices like cotton, TENCELTM lyocell derived from sustainable wood sources, and modal made from beech trees offer softness with added benefits. Breathable cotton provides temperature regulation while lyocell and modal have natural antibacterial properties. Those susceptible to yeast infections can benefit from the moisture-wicking abilities of these sustainable natural fibers.
Seek Non-Constricting Comfort
Avoiding anything too tight, binding, or constricting is key for comfort with chronic illness. Aerie emphasizes comfort through wire-free bralettes with stretch fabrics that accommodate bloating and pain. Their loungewear and underwear offer ample room through the waist and hips for free movement without pinching. Look for wide bands, stretch lace details, and lightweight lining that doesn't squeeze sensitive areas. Ditch any underwire, boning, or harsh elastic that could unexpectedly dig in on bad days. Prioritize comfort through flexibility.
Aerie's commitment to feather-soft fabrics, size diversity, vast seamless options, and adaptive designs make their lingerie an excellent choice for chronic illness-friendly lingerie for seeking comfort, confidence, and community. Surround yourself with Aerie's innovations tailored to your body's needs and your unique personal style.